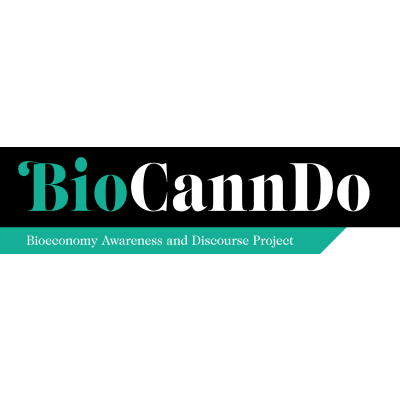 BioCannDo
Bioeconomy Awareness and Discourse Project
Project details
Type of project

Coordination and Support Action

Project focus

Market, policies & awareness
Project period

1 October 2016 - 30 September 2019

CBE JU Contribution

€ 998 345

Call identifier

H2020-BBI-PPP-2015-02
Summary
Bio-based solutions will be vital in driving Europe's ambitions to become a smarter, greener and more circular economy. A core component of a successful bioeconomy sector will be public support for the benefits. Unfortunately, in many settings, there is little awareness or enthusiasm yet.
The BioCannDo project will help bridge awareness gaps, and inform about the potential and long-term benefits of a vibrant bioeconomy sector to the wider public. It will show to the public that the bio-based economy offers something desirable, with new products, functionalities and day-to-day applications. 
BioCannDo will also offer a platform for feedback, interaction and engagement in the wider discussion on the value of a bio-based economy.
Develop multi-stakeholder key messages for communicating functionality and sustainability aspects of bio-based products with the broader public
Engage a European stakeholder network dealing with communication issues regarding the bioeconomy in a joint communication undertaking.
Create synergies for existing materials and develop missing communication formats and educational material to communicate topics of the bioeconomy and bio-based products to the European citizens
If Increase of awareness and acceptance of bio-based products by society.
Increased societal confidence related to (new) bio-based products and bio-based industries.
Increased engagement by end-consumers in the bioeconomy.
Bio-based home cleaning products
Durable Bio-based coffee mug
Bio-based t-shirt
Bio-based lipstick
The BioCannDo experience: let's talk about bio-based products
20 August 2019
Over the past three years, the BBI JU-funded BioCannDo project focused intensively on communicating bio-based products and the bioeconomy. The project team gained a lot of experience, which it would now like to share with other communicators. Ten key insights are presented in BioCannDo's recent publication The BioCanndo experience: Let's talk about bio-based products. Read more
BioCannDo presents its first Allthings.Bio slideshow about bio-based products 
October 2017
Nowadays products like shoes, clothes, plastic toys, compostable plastic bags, paints and many others can be produced from renewable raw materials like wood, corn, straw, vegetable oil or sugar beets. To raise awareness of these products by the general public, the AllThings.Bio portal created by the project BioCannDo has published the 'AllThings.Bio slideshow', the first of a series 'digital stories' on the subject. 
Consortium map
Project coordination
FACHAGENTUR NACHWACHSENDE ROHSTOFFE EV

Gulzow, Germany
Consortium
YOURIS.COM

Brussels / Bruxelles, Belgium

STICHTING AVANS

Tilburg, Netherlands

ICONS SRL

Rovereto Tn, Italy

PROSPEX BVBA

Keerbergen, Belgium

B.T.G. BIOMASS TECHNOLOGY GROUP BV

Enschede, Netherlands