The mission of CBE JU is to advance a competitive bioeconomy for a sustainable Europe. To achieve this goal, in 2022, the public-private partnership will fund projects developing innovative and sustainable bio-based solutions, with a focus on these strategic priorities: feedstock, processing, products, as well as cross-cutting aspects of communication and environmental sustainability. These priorities are set in the CBE JU's Strategic Research and Innovation Agenda (SRIA) for the 2022-2030 period.
Call details
Call identifier: HORIZON-JTI-CBEJU-2022
Call launch: 22 June 2022
Call deadline: 22 September 2022 17:00 CET
Call budget: €120 million 
CBE JU calls follow the rules and procedures of Horizon Europe,  the EU's research and innovation programme. Find more information about Horizon Europe's funding opportunities.
Call topics and budget
In 2022, CBE JU will welcome project proposals across 12 topics with a total indicative budget of €120 million:
Innovation Actions
Innovation Actions - Flagships
Research and Innovation Actions
Coordination and Support Actions
Disclaimer: The anticipated total contribution of CBE JU funding for each topic is the estimated amount which would allow the specific challenge to be addressed appropriately. Nonetheless, this estimate does not preclude the submission and selection of proposals with another requested contribution.
Types of action funded by the call
CBE JU is funding three types of actions:
Research and Innovation Actions (RIAs) establish new knowledge or explore the feasibility of a new or improved technology, product, process, service or solution. These may include basic and applied research, technology development and integration, testing, demonstration, and validation on a small-scale prototype, in a laboratory or simulated environment.
Innovation Actions (IAs) scale up activities from prototype to product validation and market replication. Flagships, an important and specific type of IAs, in particular deploy a first-of-its-kind innovation on the European market.
Coordination and Support Actions (CSAs), among other, structure stakeholder communities, support technological visions and outreach, as well as disseminate and exploit research results.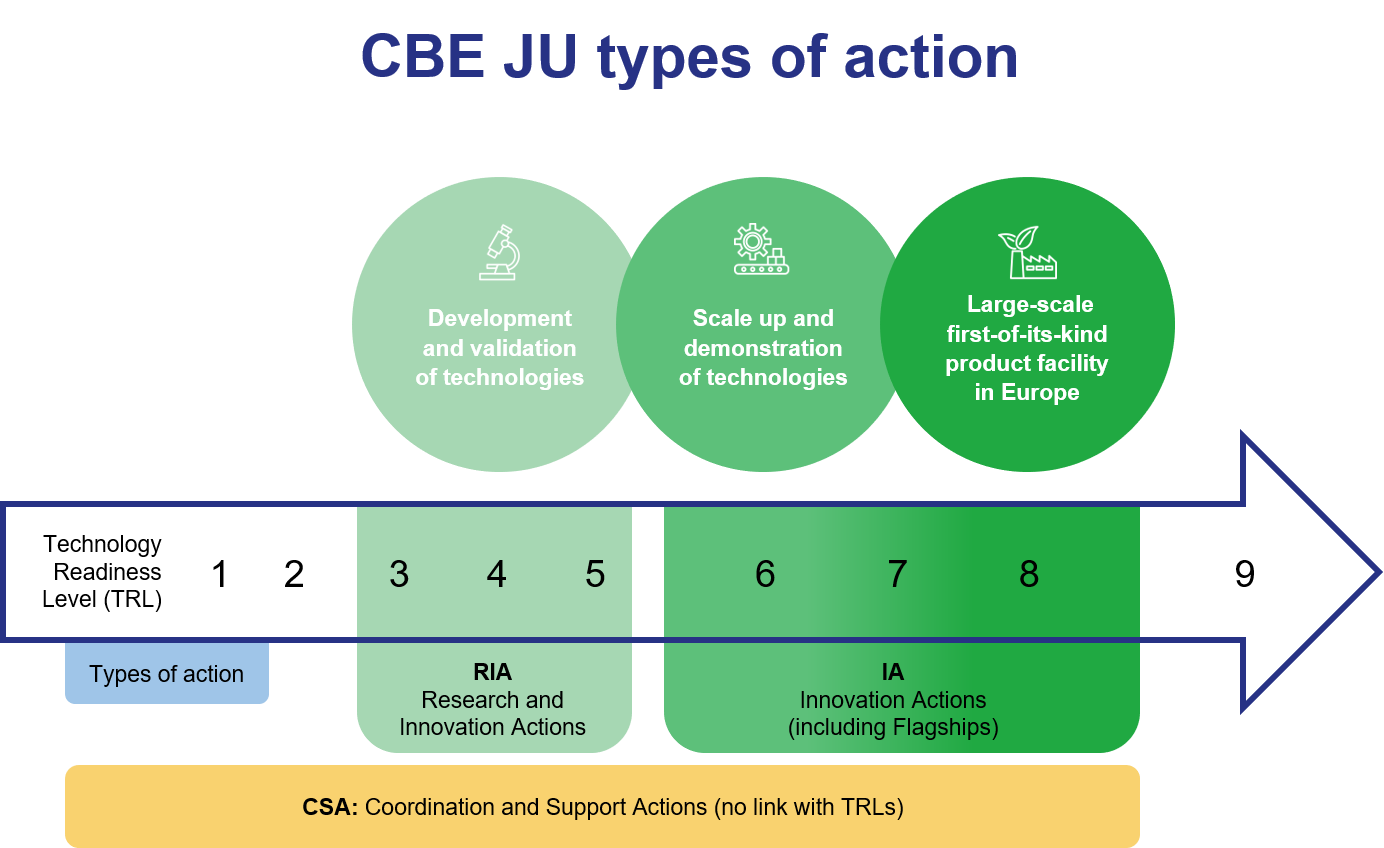 Call timing
After the call deadline, the CBE JU Programme Office will organise the evaluation of the submitted proposals with the help of external experts.
The applicants will receive information about the outcome of the evaluation by the end of February 2023 the latest.
CBE JU is expected to sign grant agreements with the successful applicants by the end of May 2023.

Call documents
These are the documents you will need to submit your project proposal. You will also find them in the submission system:
Apply as an expert
Are you an expert in the fields of this call but are not planning to submit a proposal? Consider applying as an evaluator to help CBE JU select the best proposals in this and future calls:
 Create or update your expert profile via the European Commission's Funding & tenders portal  
E-mail experts [at] cbe.europa.eu by 29 June 2022, mentioning your expert profile number (format EX20XX1234567).
More information
Relevant documents and links to prepare your proposal: