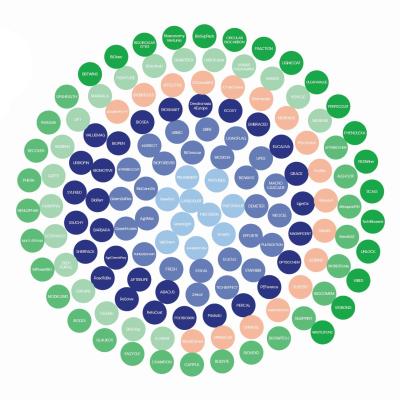 CBE JU and its predecessor BBI JU are key contributors to the EU's bioeconomy, concludes the 2021 CBE JU activity report. 41 finalised CBE JU-funded projects have delivered a high number of new bio-based materials and consumer products with improved qualities, as well as created new value chains and new cross-sector interconnections. BBI JU's funding has helped to increase the competitiveness of European companies and create new markets and is expected to generate more than double the amount in private investments.
Delivering on the objectives
On 30 November 2021, CBE JU took over the work of its predecessor BBI JU. The mission of BBI JU was to advance sustainable and competitive bio-based industries in Europe. BBI JU contributed to a more resource-efficient and sustainable low-carbon economy while increasing economic growth and employment, particularly in rural areas.
The 2021 results of the partnership confirm that it was well on track in implementing these objectives. 41 finalised BBI JU-funded projects have delivered 92 new bio-based materials, 31 consumer products and 52 building blocks, as well as 86 new cross-sector interconnections and 63 new bio-based value chains.
One-third of the new bio-based materials and products report improved recyclability, proving the success of circular production models based on the sustainable use of renewable resources. 40% of the new bio-based building blocks are breakthrough ones that have no fossil-based counterparts and provide a high potential for the development of new chemical structures with novel properties.
BBI JU and CBE JU are delivering in areas that - up until now - had some remaining gaps, for example full geographic coverage and transformation at large scale of aquatic feedstock and municipal waste in flagship projects. Closing these gaps confirms the alignment of BBI JU's achievements with its initial goals and illustrates the high impact of the initiative.

Philippe Mengal, Executive Director of CBE JU
BBI JU-funded projects have further diversified the biomass used, adding on aquatic biomass (fisheries and algae), the organic fraction of municipal solid waste and CO2 effluents from bio-based operations. This shift from conventional agro-food value chains is opening new opportunities for significantly more value chains than initially expected, with circularity in focus.
Boosting investments and creating new jobs
Overall, 140+ BBI JU-funded projects report increased competitiveness of the participating companies, along with the creation of new markets, the expansion of industrial capacities and the reduction of the external dependence on both fossil and other non-renewable resources, such as minerals from mining. By supporting projects and encouraging investments, the partnership is expected to generate €2.61 of private contributions for every euro of EU public funds.
BBI JU has been essential in maximising new investments and creating jobs that contribute to the socio-economic objectives of the European Green Deal.

Philippe Mengal, Executive Director of CBE JU
13 CBE JU flagship projects alone report the creation of 4,700 direct and 15,000 indirect jobs. With only €250 million of CBE JU funding in these first-of-their-kind biorefineries, the industry is investing €1.3 billion. This means that every euro invested has attracted around 5.2 euros of private investment in these projects. Furthermore, these flagship biorefineries have a high replication potential that will multiply their impact.
SMEs participation in the projects continues to significantly surpass expectations, with more than 40% of all beneficiaries being SMEs and receiving around 37% of the overall funding. Some SMEs are also coordinators of large flagships projects, such as FARMŸNG and SCALE
Strong collaboration between academia and industry, including SMEs has resulted not only in knowledge creation and transfer but also in the deployment of sustainable processes and commercialisation of bio-based products.
Supporting EU's climate goals
An important contribution to climate change mitigation is the reduction of emissions of CO2 and other GHG gasses reported by 65% of projects. In addition, the projects report major impacts on waste reduction, reuse and recycling, as well as cutting energy and water consumption and improving land use.
The report concludes that this industry-led initiative has helped to modernise and strengthen the EU industrial base, create new value chains and greener, more cost-effective industrial processes while accounting for protecting biodiversity and the environment. The CBE JU initiative will continue this important work, developing a robust bioeconomy that will help the EU accelerate the transition towards a circular and low-carbon economy.