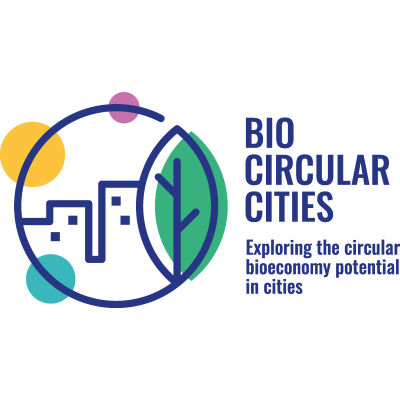 BIOCIRCULARCITIES
Exploring the circular bioeconomy potential in cities. Proactive instruments for implementation by policy makers and stakeholders
Project details
Type of project

Coordination and Support Action

Project focus

Market, policies & awareness
Project period

1 October 2021 - 30 September 2023

CBE JU Contribution

€ 999 893,75

Call identifier

H2020-BBI-JTI-2020
Summary
While there is an inevitable degree of synergy between the circular economy and the bioeconomy, it does not axiomatically follow that bioeconomy projects are automatically circular. Although both make use of organic waste, and while both make better use of resources, their goals are not identical. The former aims to reduce the use of fossil-based resources through making more use of recycled materials, while the latter looks to switch from fossil-based to bio-based resources. Through aligning the two, there is still room for improvement in the circularity of the bio-based economy.
However, achieving these efficiencies means recognising that there are myriad actors in bio-based product chains. It also means recognising that their perspectives and priorities on managing biowaste differ. Yet if a circular economy is to become a reality, this common alignment needs to be achieved. This means defining a common strategy that disparate sectors can align with; it will require long term investment from stakeholders – and a regulatory and legislative framework capable of encouraging that, it will require governments at all levels to set policies that make circular bioeconomy approaches economically sustainable. The BIOCIRCULARCITIES project is designed to help identify and develop innovative and comprehensive regulatory frameworks and roadmaps that are well aligned with circular bioeconomy principles. 
The BIOCIRCULARCITIES project will focus on the interactions between the circular and bio-economies, using insights derived from multi-stakeholder participatory processes. It will consider both supply-side and demand-side aspects of policymaking to maximise the effectiveness. It will determine these through four strands. The first will be by exploring the circular economy potential of unexploited bio-based waste streams generated around three European cities - Barcelona in Spain, Naples in Italy and Pazardzhik in Bulgaria. The second will be to identify and analyse those circular bioeconomy best practices in the EU that could be successful in the pilot areas. Third, opportunities and obstacles to for introducing such processes. It will then use the learnings from the three areas to propose proactive instruments and policy roadmaps that can be applied in a wider European context.
The overarching goal of the BIOCIRCULARCITIES project is to generate valuable insights for policy makers and legislators. The information will help them when developing policy measure that can reconcile the demands of legislation, waste management, circularity and the bioeconomy. Within this, the project will pursue a number of specific objectives. It will:
Identify and analyse how biowaste is underexploited in the pilot areas; it will study biowaste chains in the urban pilots to identify areas for potential improvements in order to bring them better into line with the principles of the circular economy.
Identify existing best practices in the circular bioeconomy. This will look for international examples of methods of dealing with known process bottlenecks and collect examples of successful national/regional policy instruments.
Examine the current national and regional policy landscape and upcoming regulations and policy instruments on circular bioeconomy. This will help identify any regulatory opportunities, insufficiencies and gaps in addr
Develop a communication and dissemination plan and a process for stakeholder engagement, in order to help map the various concepts of and approaches to the circular bioeconomy. As part of this, it will undertake capacity building at local and national level to help disseminate results and recommendations for circular use of bio-resources.
Develop proactive instruments and recommendations to help implement the circular bioeconomy. This will include proposals for policy measures and innovative solutions. There will also be a web-based tool to assist both policy makers and industry in designing biowaste management strategies.
The project will also create a business plan for exploiting the project results.essing the bioeconomy, with a particular focus on the requirements of end-of-waste for organic residual streams.
These are the expected impacts of the project: 
Align the bio-based industry's R&I with relevant regulation, enabling especially SMEs without large in-house strategic departments to achieve pan-European value chain integration and market reach.
Help bio-based industry to align R&D&I with relevant regulations, and especially help SMEs without large in-house strategic departments to achieve pan-European value chain integration and market reach.
Inform policy makers and stakeholders from different areas about non-technological hurdles" and "provide advice to policy makers on key hurdles presented by new regulation and on opportunities for supporting EU goals.
Prevent knowledge gaps on regulation hindering the market entry of bio-based processes and products.
 Provide opportunities for early-stage projects to evaluate their business case against current and upcoming regulations.
 Help bio-based alternatives to take advantage of the regulatory framework to prove their superiority to fossil-based solutions.
Consortium map
Project coordination
FUNDACIO ENT

Villanova I La Geltru, Spain
Consortium
REGIONALNA ENERGIINA AGENCIA PAZARDJIK SDRUZENIE - REGIONAL ENERGY AGENCY OF PAZARDJIK REAP

PAZARDJIK, Bulgaria

CITTA METROPOLITANA DI NAPOLI

NAPOLI, Italy

CIVITTA EESTI AS

Tartu, Estonia

ASSOCIATION OF CITIES AND REGIONS FOR SUSTAINABLE RESOURCE MANAGEMENT

Bruxelles / Brussel, Belgium

LUXEMBOURG INSTITUTE OF SCIENCE AND TECHNOLOGY

Esch Sur Alzette, Luxembourg

AGENZIA NAZIONALE PER LE NUOVE TECNOLOGIE, L'ENERGIA E LO SVILUPPO ECONOMICO SOSTENIBILE

Roma, Italy

AREA METROPOLITANA DE BARCELONA

Barcelona, Spain