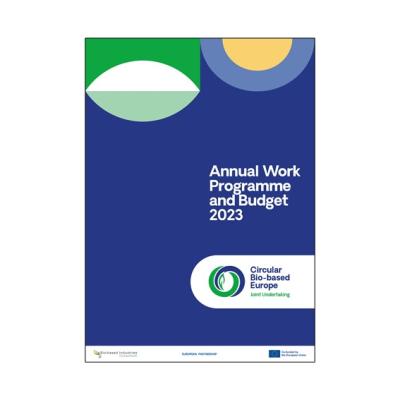 CBE JU has published its Annual Work Programme for 2023, including information about the next call for project proposals. €215.5 million will be dedicated to advancing competitive circular bio-based industries in Europe across 18 topics.
'To deliver on its objectives, the partnership will fund projects enhancing circularity and sustainability. Consequently, CBE JU will significantly contribute to the EU's climate targets for 2030, paving the way for climate neutrality by 2050. The funded projects will advance circular and sustainable production in line with the European Green Deal while increasing Europe's strategic autonomy.' CBE JU Executive Director ad interim Nicoló Giacomuzzi-Moore highlighted in the opening message of the work programme.
CBE JU will significantly contribute to the EU's climate targets for 2030 while increasing Europe's strategic autonomy.

CBE JU Executive Director ad interim Nicoló Giacomuzzi-Moore
€215.5 million for the circular bioeconomy
In 2023, CBE JU will open a call covering 18 topics for submission of project proposals, with a total indicative budget of €215.5 million:
Innovation actions – flagship (IA-flagship)
Optimised and integrated woody-based value chains - €17 million
Expansion and/or retro-fitting of biorefineries towards higher-value bio-based chemicals and intermediates - €17 million
Bio-based packaging materials with improved properties: barrier, food contact, forming, printability, safety, recyclability/circularity-by-design - €17 million
Valorisation of aquatic biomass waste and residues - €10 million
Innovation actions (IA)
Small-scale biorefining in rural areas - €15 million
Production of safe, sustainable, and efficient bio-based fertilisers to improve soil health and quality - €15 million
Improve fermentation processes (including downstream purification) to final bio-based products - €15 million
Recycling bio-based plastics increasing sorting and recycled content (upcycling) - €15 million
Development of scalable, safe bio-based surfactants with an improved sustainability profile - €15 million
Selective, sustainable production routes towards bio-based alternatives to fossil-based chemical building blocks - €15 million
High performance, circular-by design, bio-based composites - €15 million
Research and innovation actions (RIA)
Phyto-management; curing soil with industrial crops, utilising contaminated and saline land for industrial crop production - €10 million
Optimised forest-based value chains for high-value applications and improved forest management - €10 million
Robust and optimised industrial biotech and chemical/industrial biotech processes - €10 million
Development of novel, high-performance bio-based polymers and co-polymers - €10 million
Pre-normative research to develop standards for biodegradability of bio-based products in controlled and open environments - €5 million
Coordination and support actions (CSA)
EU-wide network of pilot plants and testing facilities, improving SMEs and start-ups' access to scale-up - €1.5 million
Supporting the capacity of regions in environmental sustainability assessment for the bio-based sectors - €3 million
Check the Annual Work Programme 2023 for the complete topic text, conditions and requirements.
Save the date! The CBE JU Info Day 2023 is planned for 20 April 2023 in person in Brussels, with ample face-to-face networking opportunities. The sessions will also be streamed online.
The call for proposals will open after the event, and the call deadline is planned for 20 September 2023. 
The CBE JU call's budget comes from Horizon Europe, the EU's research and innovation funding programme. Each euro of public funding will be complemented by private investments. The topics for submission will be published on the EU's Funding & tender opportunities portal.
A work programme to address strategic priorities
The Annual Work Programme 2023 is based on the strategic priorities from the CBE JU's Strategic Research and Innovation Agenda (SRIA). This guiding document was developed jointly by both founding partners of CBE JU, the European Commission and the Bio-based Industries Consortium, with the support of the Programme Office, and adopted by the CBE JU Governing Board. The annual programme also results from the collaboration between the founding partners and the CBE JU team.