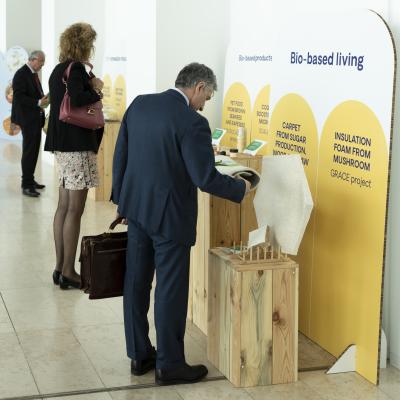 CBE JU exhibition showing circular bio-based products reaching the market
On 25 April 2023, EU Agriculture Ministers met to adopt conclusions on the opportunities provided by the bioeconomy in light of the current challenges. CBE JU showcased during the Agriculture and Fisheries (AGRIFISH) Council highly innovative bio-based products made in Europe and circular bio-based industries that are advancing the EU's green economy.
In their conclusions, ministers highlighted the vital role that the bioeconomy could play in achieving the environmental and climate goals under the European Green Deal while also making the EU more competitive, helping it transition away from fossil-fuel dependency, and strengthening food security in the wake of Russia's war of aggression against Ukraine.
The bioeconomy carries clear potential for addressing the challenges facing the EU today, including climate change, fossil-fuel dependency and food security.

Peter Kullgren, Swedish Minister for Rural Affairs
The Council of the EU also stressed the importance of promoting research and innovation and improving alignment between scientific advances and industry policy. In this respect, the EU Agriculture Ministers highlighted the role of the Circular Bio-based Europe Joint Undertaking in advancing research and innovation in the European bioeconomy.
Discovering the EU-funded green & circular industries
The showcased exhibition featured innovative projects, including flagship biorefineries built across Europe that will collectively create over 20,000 jobs and reduce CO2 emissions by 800 KT. Additionally, the exhibition highlighted the innovative products made by CBE JU-funded projects in collaboration with well-known brands. These products include a prototype of a cupboard made with sustainable bio-based binders from crop residues, a fully bio-based and recyclable beer bottle, cognitive booster pills made of microalgae, and a 100% natural nylon carpet made of sugar production, wood, and straw waste.
The exhibition demonstrated the power of a competitive bioeconomy for a sustainable future. By showcasing these innovations, the CBE JU aims to inspire further investment and development in circular bio-based production processes that will reduce emissions, create new jobs, and boost regional and coastal economies while advancing the EU's green industries.
Since 2014, the CBE JU has invested €3.7 billion in more than 140 projects that develop such industries in Europe. In 2022, a new funding envelope of €2 billion was opened to support these efforts.
CBE JU organised the exhibition about circular bio-based products and commercial biorefineries in collaboration with the Swedish Presidency during the AGRIFISH Council meeting, where the Council's conclusions on the opportunities provided by the bioeconomy for Europe were adopted.