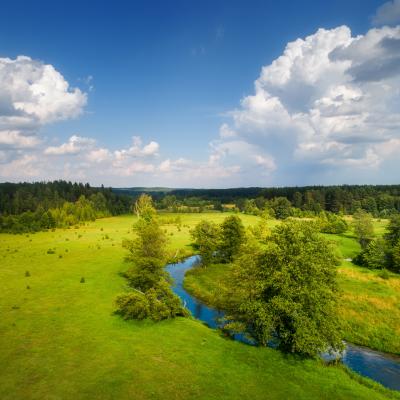 The European Commission is proposing stricter rules on ambient air, surface and groundwater pollutants, and the treatment of urban wastewater, stemming from the Zero Pollution Action Plan published in 2021 to reduce pollution by 2030. Since 2014, CBE JU has significantly contributed to the objectives of this plan by funding more than 140 projects that promote circular, bio-based innovations across Europe. These projects help reduce waste and plastic pollution while preserving biodiversity as well as replacing toxic chemicals with much healthier bio-based products.
For the last eight years, the Circular Bio-based Joint Undertaking (CBE JU) has played an important role in developing the EU's bioeconomy. By de-risking investments and fostering collaborations between the scientific community and industry, the partnership between the European Commission and the Bio-based Industries Consortium (BIC) has supported new technologies and business models leading to bio-based ingredients, materials and products with better environmental performance than their fossil-based alternatives. In addition, CBE JU's funding has helped to create new innovative bio-based ingredients, with no fossil-based counterparts, as well as to develop circular production processes with a minor environmental impact. These innovations are direct contributors to the EU's climate goals. 14 CBE JU flagship biorefineries alone will reduce the CO2 emissions by 800,000 tons every year. In addition, they contribute to recycling and waste reduction.
This week, the Commission proposed stronger rules on ambient air, surface and groundwater pollutants, and the treatment of urban wastewater. Clean air and water are essential for the health of people and ecosystems. Air pollution alone means nearly 300,000 Europeans die prematurely each year, and the proposed new rules will reduce deaths resulting from levels of the main pollutant PM2.5 above World Health Organization guidelines by more than 75% in ten years. Across air and water, all of the new rules provide a clear return on investment thanks to benefits in health, energy savings, food production, industry, and biodiversity. Learning the lessons from current laws, the Commission proposes to both tighten allowed levels of pollutants and to improve implementation to ensure pollution reduction goals are more often reached in practice. Today's proposals are a key advance for the European Green Deal's zero pollution ambition of having an environment free of harmful pollution by 2050. They also respond to specific demands of the Conference on the Future of Europe.
Executive Vice-President for the European Green Deal, Frans Timmermans, said: 'Our health depends on our environment. An unhealthy environment has direct and costly consequences for our health. Each year, hundreds of thousands of Europeans die prematurely, and many more suffer from heart- and lung diseases or pollution-induced cancers. The longer we wait to reduce this pollution, the higher the costs to society. By 2050, we want our environment to be free of harmful pollutants. That means we need to step up action today. Our proposals to further reduce water and air pollution are a crucial piece of that puzzle.'
By 2050, we want our environment to be free of harmful pollutants. That means we need to step up action today. Our proposals to further reduce water and air pollution are a crucial piece of that puzzle.

Frans Timmermans (Executive Vice-President for the European Green Deal)
Fighting domestic waste and plastics pollution 
How to limit the dispersion of plastics?  
The Zero Pollution Action Plan foresees to decrease plastic pollution by 30% by 2030. It is also aiming to improve water and soil quality by restoring the ecosystems and clearing waste. Currently, only 31.1% of the 27 million tons of plastic waste produced each year are recyclable, thus causing a tremendous negative impact on the ecosystem. Several CBE JU-funded projects are fighting plastic pollution with innovative bio-industrial solutions. 
For instance, the ENZYCLE project is researching new enzymatic processes to treat and recycle plastic residues that could not be recycled before. The project's team will select enzymes that can degrade plastics and microplastics and apply this at an industrial scale to significantly reduce plastic pollution in wastewater and landfill. CBE JU-funded projects also contribute to soil restoration and protection.
For instance, RECOVER is developing innovative processes to avoid the dispersion of biodegradable plastics used in agriculture. The project's research team will provide biotechnological solutions, using microorganisms, novel enzymes, earthworms, and insects to degrade conventional plastic packaging and agricultural film waste. 
A step towards zero waste  
The vast majority of CBE JU projects use leftovers of other production processes, such as side streams of agriculture, food, pulp and paper industries, thus reducing waste. In addition, some projects have found ways to give value to household waste. Each year, nine thousand tons of nappies, feminine hygiene products and diapers are thrown, landfilled, or incinerated across Europe. To reduce the environmental impact of such waste, the EMBRACED project built a biorefinery in Treviso, Italy, to transform nappies and diapers into new materials such as organic fertilisers and packaging films. 
Reducing the environmental impact of textile 
Several CBE JU projects aim at developing sustainable bio-based fibres and textiles for different applications, such as sportswear, carpets or fishing. These fibres are eco-designed and have reduced environmental impacts at both the production and end-of-life phases. As an example, the GLAUKOS project will help the textile industry become more circular by increasing the biodegradation rate of materials while boosting their durability.
Protecting biodiversity  
Some CBE JU-funded projects are contributing to the EU's biodiversity goals by providing innovative bio-based alternatives to more harmful traditional pesticides and fertilisers.
Giving farmers sustainable alternatives to pesticides for crop protection  
Following the Xylella fastidiosa bacteria crisis that has damaged and destroyed entire olive orchards in Southern Europe, the BIOVEXO project is working on a range of biopesticides that will target the bacteria whilst preserving the ecosystem of the orchards. BIOVEXO will offer producers to switch to sustainable alternatives to traditional pesticides for an improved environmental footprint.  
Chemical-based pesticides are harming biodiversity across Europe. To respond to this issue, the PHERA project is working on bio-based pesticides, derived from insect pheromones, that will help prevent environmental damage and preserve large-scale crops from pests. Moreover, PHERA will make pheromones-based products much more affordable for farmers, thus helping to switch to greener farming.
Preserving the health of the Europeans  
The Zero Pollution Action Plan provides measures to protect the health of EU citizens. While almost 44% of CBE JU projects produce healthier products than their fossil-based equivalents, some of them focus specifically on developing safer solvents and chemicals.  
Solvents and chemicals are omnipresent in everyday life, from paints to personal care items, fertilisers, and cleaning products. With the aim to create healthier products, the CBE JU-funded RESOLVE project will replace these with harmless and bio-based ones. The project's team has already synthesised a safer alternative called Cyrene™ (dihydrolevoglucosenone) to replace NMP, a solvent known for its toxic impact on the environment and human health. The project partners will start the production of Cyrene™ in France.  
The BeonNat project is exploiting marginal land in Germany, Romania and Spain as a biomass source to produce bio-based chemicals. By doing so, the project is giving European consumers the possibility to choose a bio-based alternative while improving the air quality.
Next steps
The proposals will now be considered by the European Parliament and the Council in the ordinary legislative procedure. Once adopted, they will take effect progressively, with different targets for 2030, 2040, and 2050 – giving industry and authorities time to adapt and invest where necessary.