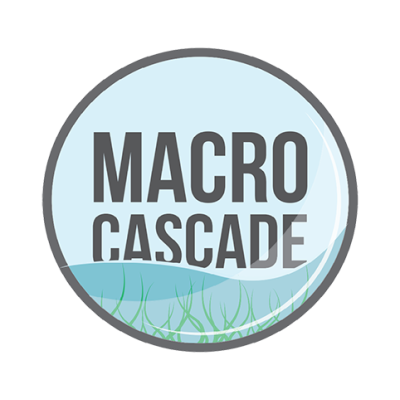 MACRO CASCADE
MACRO CASCADE – Cascading Marine Macroalgal Biorefinery
Project details
Type of project

Research & Innovation Action

Project focus

Food, feed & cosmetics
Project period

1 October 2016 - 31 March 2021

CBE JU Contribution

€ 4 156 356,25

Call identifier

H2020-BBI-PPP-2015-02
Summary
The MACRO CASCADE project will prove the concept of the cascading marine macroalgal biorefinery. This is a production platform that covers the entire technological chain for processing sustainable cultivated seaweed into highly processed value added products.
The MACRO CASCADE project will address many of the existing challenges and barriers encountered in previous and ongoing projects on refining seaweed biomass.
Ultimately, it will allow the oceans to provide much more of the food that Europe will need in future.
Obtain optimized strains of seaweeds to increase levels of target components in Saccharina Latissima (sugerkelp, kombu) and Palmaria palmata (red seaweed, dulse).
Improve scalable cultivation of seaweeds using 1D and 2D cultivation substrates, develop mechanical harvesting, increase biomass yield by a factor of 5, and reduce overall cultivation cost 50-75%.
Improve methods for seaweed biomass preparation and storage stability.
Develop patentable feed and food products with health promoting functionalities through innovative microbial refining methods of macroalgae in combination with rape seed.
Develop scalable and sustainable extraction/separation methods for the production of multiple products from brown and red seaweeds or seaweeds residues by enzyme aided physicochemical methods. Targeted intermediate products are alginate, fucoidan, mannitol and protein.
Develop a variety of efficient and robust carbohydrate active enzymes, with a range of specificities of relevance for processing macroalgal polysaccharides. Target high value products for feed, food, pharmaceuticals, cosmetics and chemicals are enzymatic derivatives of alginate, laminarin and fucoidans.
Study the economic viability of the macroalgae cascading valorization schemes.
Quantitatively assess the sustainability of the seaweed-based value chains, via a multi-criteria evaluation of the technological, environmental, economic, and social aspects.
Develop sustainable business cases for a "Blue Print" of the cascading marine macroalgal biorefinery.
Scaling up macro-algae cultivation and the pre-treatment industry.
Impact on the innovative biorefinery processes for turning seaweed into a commodity.
Impact on industrial exploitation of the findings and methods in Macrocascade.
European seaweed cultivation of 4 million tons ww/year in 2030 and 20 Million tons 2050.
Increase total value of biomass from €25/tons ww to €1000/tons ww, corresponding to an annual revenue of €2 Billion in 2025.
Novel business opportunities for on short term for feed and food products, and on midterm for high value pharma- and nutraceauticals, large volume chemicals and bio materials and marine based proteins and fatty acids in high demand.
Expected job creation is expected to be one employee for every 700 tons ww produced/year13 in costal regions of Europe as a consequence of this Blue Growth.
The growth of macroalgae can assimilate CO2 and perform bioremediation, e.g. neutralizing impact on the marine ecosystem.
Consortium map
Project coordination
TEKNOLOGISK INSTITUT

Taastrup, Denmark
Consortium
LUNDS UNIVERSITET

Lund, Sweden

ABS-INTERNATIONAL

Sint Martens Latem, Belgium

NEDERLANDSE ORGANISATIE VOOR TOEGEPAST NATUURWETENSCHAPPELIJK ONDERZOEK TNO

Den Haag, Netherlands

NOVOZYMES A/S

Bagsvaerd, Denmark

MATIS OHF

Reykjavik, Iceland

REGION MIDTJYLLAND

Viborg, Denmark

Fermentationexperts AS

Bække, Denmark

DANMARKS TEKNISKE UNIVERSITET

Kongens Lyngby, Denmark

HORTIMARE AS

HARDBAKKE, Norway

SPF OCEAN RAINFOREST

KALDBAK, Faroe Islands

STICHTING WAGENINGEN RESEARCH

Wageningen, Netherlands
Former member
STICHTING ENERGIEONDERZOEK CENTRUM NEDERLAND

Petten, Netherlands

CARGILL R&D CENTRE EUROPE

Vilvoorde, Belgium