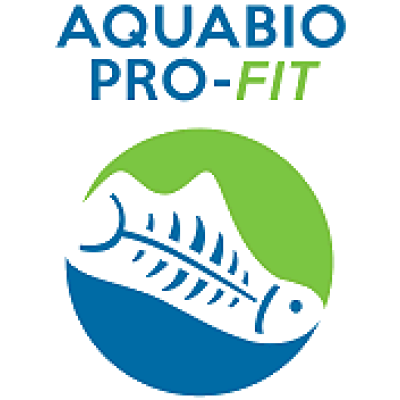 AQUABIOPROFIT
AQUAculture and Agriculture BIOmass side stream PROteins and bioactives for Feed, FITness and health promoting nutritional supplements
Project details
Type of project

Research & Innovation Action

Project focus

Food, feed & cosmetics
Project period

1 April 2018 - 31 December 2022

CBE JU Contribution

€ 3 349 527

Call identifier

H2020-BBI-JTI-2017
Summary
Across Europe, hundreds of thousands of tons of marine side-stream products such as fish heads, backbones and intestines are discarded.
The AQUABIOPRO-FIT project aims to convert residual biomass and industry side streams into ingredients for food, feed and other high value markets.
The AQUABIOPRO-FIT project is expected to cover Technology Readiness Levels (TRL) 3 and 5.
The AQUABIOPRO-FIT project's main objective is to promote the increased and efficient use of aquaculture, fisheries and agricultural side streams in feeds and nutritional supplement food products aimed at promoting human health and fitness. Specifically, it sets out to:
Systematise existing knowledge and technologies on the field of organic nutritional supplements and identify gaps and opportunities for exploitation of major aqua-and agriculture (and fisheries) processing side stream biomasses in Europe;
Identify cost efficient downstream processing methods for the production of standardised products and compounds from major aquaculture and fisheries processing side streams;
Develop bio-filtration of plankton in eutrophic systems and cage farm particles for the production of tunicate based meals and bioactive ingredients;
Develop and validate innovative, cost effective and environmentally friendly downstream processing methods of tunicates and side stream biomasses from fish and fish oil processing for the production of targeted nutritional supplements for in vitro, animal and clinical testing with athletes and patient groups;
Utilise state-of-the-art disease models and cell culture analyses analyse the bioactivity of new extracts and determine the therapeutic and health-promoting properties of selected ingredients to be incorporated in products for human consumption and use;
Assess the safety and bioavailability of the new ingredients;
Evaluate the scalability of tunicate biomass production and optimise the downstream processing yield and cost processing effectiveness of fish side stream biomasses;
Develop new documented fitness/performance, and health promoting nutritional supplements and feed ingredients.
Assess the acceptance and bioactivity of human health and nutrition products;
Ensure economic, technical and environmental sustainability of the developed industrial applications;
Address social and regulatory aspects regarding the introduction of side stream biomass based products in the
AQUABIOPRO-FIT will develop side stream biomass processing technologies that can up-concentrate nutrients and functional compounds while maintaining product quality and minimising waste.
The target bioactivity of the developed food products will be; improved athlete performance; anti-anxiety and anti-depression remedies; and improvements to body pH balance, skin health and hair growth.
AQUABIOPRO-FIT is also expected to reduce cage farming aquaculture waste by 50 percent and reduce fisheries by-catch discards by 50 percent.
Consortium map
Consortium
ASSOCIATION POUR LA RECHERCHE ET LEDEVELOPPEMENT D'INNOVATIONS ET DETECHNOLOGIES POUR LA PROTECTION DEL'HERITAGE ENVIRONNEMENTAL, SOCIAL

Nice, France

ARISTOTELIO PANEPISTIMIO THESSALONIKIS

THESSALONIKI, Greece

PELAGIA AS

Bergen, Norway

UNIVERSITAT DE VALENCIA

Valencia, Spain

PANEPISTIMIO KRITIS

Rethimno, Greece

MARINE FEED SWEDEN AB

Stenungsund, Sweden

SEAGARDEN AS

Avaldsnes, Norway

FUNDACION CENTRO TECNOLOXICO DA CARNE

San Cibrao Das Vinas, Spain

TSENTAR ZA IZSLEDOVATELSKA I RAZVOJNA DEYNOST BIOINTEH

Sofia, Bulgaria

BIOGNOSIS ASTIKI ETAIREIA

Volos, Greece

STICHTING EFFOST

Wageningen, Netherlands
Former member
VERTECH GROUP

Nice, France