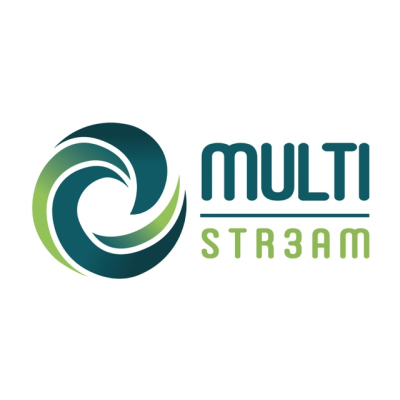 MULTI-STR3AM
A sustainable multi-strain, multi-method, multi-product microalgae biorefinery integrating industrial side streams to create high-value products for food, feed and fragrance
Project details
Type of project

Innovation Action - Demonstration

Project focus

Food, feed & cosmetics
Project period

1 May 2020 - 30 April 2025

CBE JU Contribution

€ 6 588 732

Call identifier

H2020-BBI-JTI-2019
Summary
With an increasing population and a consequent growing demand for land for food, new sources of food, feed and industrial raw materials are urgently required. Microalgae has the potential to help bridge that gap without concurrent pressure on land use and without increasing the use of petrochemical-based resources. The full nutritional profile of microalgae includes protein, carbohydrates, lipids and trace nutrients such as vitamins and antioxidants and can provide food, feed, energy, pharmaceuticals and cosmetics. Its protein content is particularly high.
However, despite this clear promise, microalgae as a resource remains underdeveloped and underexploited. This means there is – currently – insufficient capacity to provide a realistic, reliable alternative to existing sources. The barriers to widespread uptake are industrial – economies of scale have not been achieved – and cost-related – the production processes are relatively expensive.
The MULTI-STR3AM project is designed to overcome these barriers. It will use a three-pillar approach: improving the strains of microalgae to boost productivity; designing and engineering more cost-effective production techniques; exploiting sidestreams, biomass and upscaling production to be able to provide a realistic alternative supply. It will do this within a centralised MULTI-biorefinery, valorising all biomass fractions using a sustainable and economically viable production model. Ultimately, the MULTI-STR3AM project aims to create a roadmap for establishing economically viable microalgae production and exploration, preserving resources and contributing to the EU's circular economy goals.
The overarching objective of the MULTI-STR3AM project is to provide solutions to the growing demand for alternative sources of raw ingredients for food, feed and other applications. Within this, it will pursue a number of specific objectives. It will:
Improve microalgae productivity by up to 20 % and valorise eight sidestreams of production. This will create sustainable new sources of proteins, oils and high-value compounds, to address the needs of end-users within the food, feed and fragrance sectors. It will also improve post-harvest logistics to increase energy efficiency and preserve sensitive compounds.
Reduce both the current capital and the operational expenses associated with microalgae production, increasing overall cost-efficiency of production and refining by between 20 % and 50 %. This will help demonstrate the feasibility of cost-effective processing of biomass within a multi-strain, multi-process, multi-product biorefinery.
Demonstrate the feasibility of the complete utilisation and valorisation of microalgae biomass. It will do this through producing a range of components for both high-volume and high-value applications in the food, feed and fragrance sectors that are already fit for purpose and compatible with existing processes.
Determine a credible and widely applicable model for the valorisation of all microalgae fractions. This will help establish a credible business model of a multi-refinery (as opposed to one for each recovered fraction) approach.
By achieving its overall objectives, the MULTI-STR3AM project will demonstrate the validity and feasibility of using a multi-refinery approach to microalgae processing and valorisation. In addition to this, it will also make contributions to specific BBI JU KPIs through:
Creating four new cross-sector interconnections. One of these will be between the microalgae sector and the chemical sector to provide feedstocks. The others will be between the microalgae sector and the feedstock, food, feed and fragrance sectors, providing compounds and ingredients.
Establishing three new sustainable and economically viable value chains, by linking new biomass feedstock sources with novel products. These will yield microalgae components for new applications in food, feed and fragrance.
Demonstrating two new chemical building blocks that have never been isolated from microalgae previously. These building blocks, which will be converted for downstream processes, are bulk protein and low-molecular-weight compounds.
Demonstrating seven consumer products, six of which will be novel. This will include three protein-based products, which can replace petrochemical feedstocks in a number of applications. It will also produce two lipid products with applications in food and feed, as well as a replacement for an existing food colouring.
In addition, the MULTI-STR3AM project will bring specific environmental benefits. It will increase overall resource efficiency by at least 20 % over conventional cultivation/processing approaches. It will also reduce associated energy consumption and GHG emissions by at least 20 % over current state-of-the-art.
Consortium map
Project coordination
A4F ALGAFUEL SA

Lisboa, Portugal
Consortium
FORFARMERS CORPORATE SERVICES BV

Lochem, Netherlands

UPFIELD RESEARCH AND DEVELOPMENT BV

ROTTERDAM, Netherlands

INTERNATIONAL FLAVORS & FRAGRANCES IFF (NEDERLAND) BV

Hilversum, Netherlands

PHYCOM BV

VEENDAAL, Netherlands

Laboratorio Nacional de Energia e Geologia I.P.

S.Mamede De Infesta, Portugal

NUTRAFUR SA

ALCANTARILLA MURCIA, Spain

IFF BENICARLO SL

Benicarlo, Spain

MIKROBIOLOGICKY USTAV AV CR V.V.I

Praha 4, Czechia

INSTITUTO DE BIOLOGIA EXPERIMENTAL E TECNOLOGICA

Oeiras, Portugal