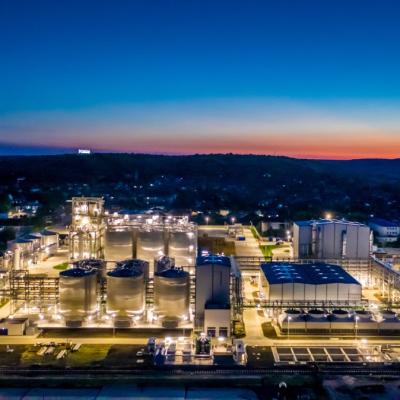 CBE JU-funded LIGNOFLAG flagship biorefinery in Podari, Romania. © Clariant
Can Europe move to a low-carbon economy where new green jobs revitalise regions and their environment? Is there a way to sustainably produce food and everyday products locally, cutting long supply chains and reliance on imported fossil-based ingredients? 
For nearly a decade, European bioeconomy stakeholders have been working on solutions to these questions with the support of CBE JU. The latest publication, A competitive bioeconomy for a sustainable future, shows how the 14 first-of-their-kind commercial-scale biorefineries funded by the joint undertaking tackle these challenges. These highly innovative circular 'factories' produce sustainable bio-based ingredients, materials, and products from renewable resources, such as many types of waste, including leftovers from agriculture, food and wood industries, municipal solid waste, or aquatic origin such as microalgae. The pioneering industrial processes replace the traditional ones based on non-renewable and often imported raw materials for fuel, energy and manufacturing. 
Creating new jobs and making Europe greener 
The goal of CBE JU is to contribute to Europe becoming the world's first climate-neutral continent while increasing the sustainability and circularity of production and consumption systems. By combining public and private funding, CBE JU helps reduce investment risk in cutting-edge technologies while creating the skills and knowledge necessary to fulfil market demands.  
The partnership's €250 million investment in 14 first-of-their-kind commercial-scale biorefineries across Europe has already attracted €1.3 billion in private investment and created nearly 20,000 jobs. Many of these are new, highly skilled jobs in rural and coastal areas where biomass is sourced. Altogether, these first biorefineries are expected to reduce 800 KT of CO2, equivalent to the amount captured by all Belgian forests in one year. What's more, each biorefinery's model can be replicated in other regions, bringing great socio-economic and environmental benefits to the local communities.
A competitive bioeconomy for a sustainable future is now available online. Check it out to discover the successes of the CBE JU-funded flagship projects: AFTERBIOCHEM, CIRCULAR BIOCARBON, EXILVA, FARMŸNG, FIRST2RUN, LIGNOFLAG, PEFerence, PLENITUDE, ReSolute, SCALE, SWEETWOODS and VIOBOND.