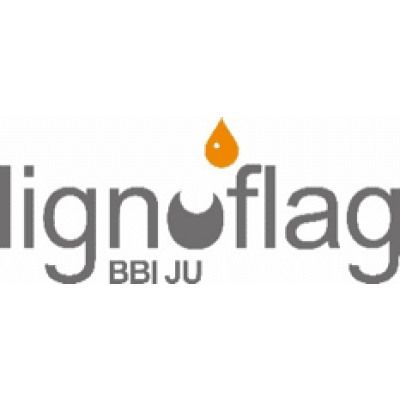 LIGNOFLAG
Commercial flagship plant for bioethanol production involving a bio-based value chain built on lignocellulosic feedstock
Project details
Type of project

Innovation Action – Flagship
Project period

1 June 2017 - 31 May 2023

CBE JU Contribution

€ 24 738 840

Call identifier

H2020-BBI-JTI-2015-01
Summary
Straw is a common waste generated by agriculture. Until now, farmers did not have any efficient use for their straw and relied on traditional inefficient uses of it.
The LIGNOFLAG project found the solution and built the first biorefinery in the world producing bio‑based ethanol from non-food resources. The carbon footprint is much lower than fossil fuels, representing greenhouse gas savings that could reach up to 95%. In addition, the liquid by-product can be applied as a fertiliser for the crops used in the process.
The completion of the biorefinery added alternative income sources for the 300 farmers in the region who will supply the straw. This project also has a high replicability potential, as new plants are already being planned.
Build and operate a commercial flagship production plant for biochemical lignocellulose conversion to cellulosic ethanol with a yearly production capacity of up to 60.000 tonnes/year.
Focus innovation on the whole value chain from raw material to product for successful market entry of lignocellulosic ethanol.
Implement a highly innovative technology based on Clariant's patent portfolio.
Optimized and integrated use of coproducts for energy or materials enabling the replacement of fossil alternatives.
Shorten time to market and successfully penetrate market with 2nd generation bioethanol made in the EU.
Develop EU´s economy smart, sustainable and inclusive, especially in rural areas.
Produce cellulosic ethanol at large scale with maximum greenhouse gas emission savings and ensure to reach sustainable practice and usage of agricultural residues and co-products.
Creation of a new biobased value chain for cellulosic ethanol production
Mobilization of a so far underutilized renewable feedstock
Boost to local economies through creation of green jobs, taxation and new business opportunities, predominantly in the agricultural and rural area.
Collaboration within and linking of the agricultural, logistics, energy and chemical sector.
Economic advantages and additional business opportunities for all actors along the supply chain, especially the agricultural sector
Proof of commercial production of cellulosic ethanol and thus creation of a new, competitive and sustainable source of domestic renewable energy for the EU.
Realizing the objectives of Horizon 2020 and other EU policies, by accelerating the implementation and deployment of cellulosic ethanol production plants in Europe.
Commercial flagship plant for bio-ethanol production involving a bio-based value chain built on lignocellulosic feedstock
Consortium map
Project coordination
CLARIANT PRODUKTE (DEUTSCHLAND) GMBH

Frankfurt Am Main, Germany
Consortium
CLARIANT PRODUCTS RO SRL

BUCURESTI, Romania

EXPORTHUNGARY NEMZETKOZI KERESKEDEL MI ES VALLALKOZASFEJLESZTESI KORLATOLT FELELOSSEGU TARSASAG

BUDAPEST, Hungary

B.D.R ASSOCIATES COMMUNICATION GROUP SRL

BUCURESTI, Romania

BAYERISCHE FORSCHUNGSALLIANZ BAVARIAN RESEARCH ALLIANCE GMBH

Munchen, Germany

ENERGIEINSTITUT AN DER JOHANNES KEPLER UNIVERSITAT LINZ VEREIN

Linz, Austria

FLIEGL AGRARTECHNIK GMBH

MUHLDORF AM INN, Germany
Former member
GEOSOL KORLATOLT FELELOSSEGU TARSASG

HALMAJUGRA, Hungary

INDUSTRIELLE BIOTECHNOLOGIE BAYERNNETZWERK GMBH

Munchen, Germany