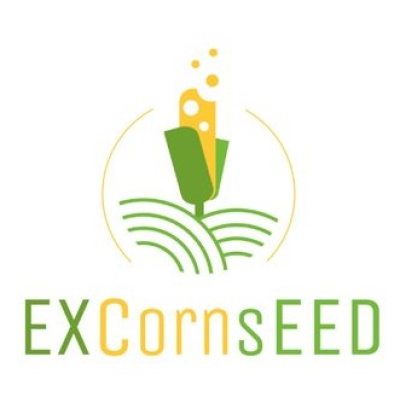 EXCornsEED
Separation, fractionation and isolation of biologically active natural substances from corn oil and other side streams
Project details
Type of project

Research & Innovation Action

Project focus

Food, feed & cosmetics

Feedstock type

Food industry sidestreams
Project period

1 June 2018 - 28 February 2023

CBE JU Contribution

€ 4 259 297

Call identifier

H2020-BBI-JTI-2017
Summary
The EXCornsEED project will combine chemistry, biology, engineering and biotechnology tools and expertise to develop and validate processes for recovering a range of bioactive compounds from bioethanol and biodiesel refinery sidestreams, specifically corn oil from bio-ethanol and rapeseed meal.
It will valorise the potential of the sidestreams of these two growing sectors at a time when changes in legislation on liquid biofuels are likely to strongly increase demand for biofuels will maximise the value of biofuels production and make them increasingly competitive.
The main objectives of the EXCornsEED project are to :
Characterise the quality and amount of compounds available for extraction from the industrial sidestreams and co-products of bioethanol and biodiesel production. It expects to identify up to 25 compounds in useable amounts.
Develop and validate an innovative, environmental-friendly approach for extracting purifying and concentrating the proteins and bioactive compounds from industry side and scaling up the process. It expects to develop at least two new viable processes and ten candidate commercial ingredients.
Test and validate the extracted compounds as ingredients for food, detergents and cosmetics. It expects to identify at least six compounds with potential for high-value commercial products.
Ensure that project results will meet European standards and regulations when entering the market and identify any gaps. It expects to be able to propose at least one new standard to the relevant body.
Assess the environmental sustainability, technical performance, cost benefits of technological solutions and final products. The aim will be to reduce the carbon footprint by 15 percent compared to current state-of-the-art methods of production.
Evaluate the business potential of the proposed approach and build a solid business case for exploiting the results. It expects to deliver four business cases validated by industrial stakeholders.
Disseminate and communicate the project results, in order to increase awareness among stakeholders.
The EXCornsEED project plans to make available a set of bio-based compounds that will be suitable for higher-performance ingredients to be used in different industries such as cosmetics, food supplements and detergents. In so doing it will:
Create new innovation capacity by increasing and expanding expertise in extraction, purification and concentration techniques.
Develop new market opportunities for green and sustainable economic growth.
Increase competitiveness of companies in biofuel and agrifood production by increasing efficiency.
Benefit society by contributing to a greener, lower-carbon, energy and resource-efficient economy.
ExcornsEED in a nutshell!
Consortium map
Project coordination
UNIVERSITA DEGLI STUDI DI ROMA LA SAPIENZA

Roma, Italy
Consortium
NUTRICIA RESEARCH BV

Utrecht, Netherlands

ENVIRAL AS

Leopoldov, Slovakia

INNOVATION ENGINEERING SRL

Roma, Italy

FUNDACION TECNALIA RESEARCH & INNOVATION

DONOSTIA-SAN SEBASTIAN (GIPUZKOA), Spain

DR LAURANNE SOCIETA A RESPONSABILITA LIMITATA

ROMA, Italy

BIOZOON GMBH

Bremerhaven, Germany

INSTITUTUL NATIONAL DE CERCETARE DEZVOLTARE PENTRU CHIMIE SI PETROCHIMIE ICECHIM

BUCURESTI, Romania

HIGHCHEM SRO

BRATISLAVA, Slovakia

FUNDACION CORPORACION TECNOLOGICA DE ANDALUCIA

Sevilla, Spain

CONSIGLIO PER LA RICERCA IN AGRICOLTURA E L'ANALISI DELL'ECONOMIA AGRARIA

Roma, Italy

CELABOR SCRL

Herve Chaineux, Belgium

PROCTER & GAMBLE SERVICES COMPANY NV

STROMBEEK BEVER, Belgium
Former member
SIGMA-ALDRICH PRODUCTION GMBH

BUCHS, Switzerland