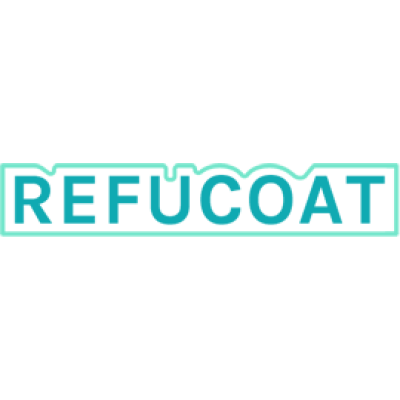 REFUCOAT
Full recyclable food package with enhanced gas barrier properties and new functionalities by the use of high performance coatings
Project details
Type of project

Research & Innovation Action

Feedstock type

Food industry sidestreams
Project period

1 June 2017 - 30 September 2020

CBE JU Contribution

€ 2 300 735,30

Call identifier

H2020-BBI-JTI-2016
Summary
RefuCoat seeks to develop hybrid bio-based high oxygen/water barrier and active coatings to be used in monolayer bio-based packaging (films and trays) as alternative to current metallised and modified atmosphere (MAP) packages.
Replacing oil-based packaging materials with bio-based ones could give a competitive advantage due to their more sustainable and greener image. Currently, bio-plastics represent about one percent of the about 300 million tonnes of plastic produced annually. But as demand is rising and with more sophisticated materials, applications, and products emerging, the market is already growing by about 20 to 100 percent per year.
RefuCoat will seek to demonstrate the potential and economic opportunity offered by the use of bio-based polymers, including PHA from food by-products and other commercial bio-polymers
RefuCoat has 10 objectives
Microbiological modification of middle chain polyhydroxyalkanoates (PHA) to achieve a polymer with high water barrier
Production and purification of glycolic acid (GA) for reactive extrusion polymerization from mono ethylene glycol (MEG) using gold based catalysts
Development of polyglycolic acid (PGA) low melting temperature based adhesives to be used in the hybrid coating formulations
Development of biodegradable Organic–Inorganic Hybrid Coatings based on the combination of modified silica oxide and PGA as a real alternative to metallised coatings
Incorporation of an active substance (antimicrobial and antioxidant) to the hybrid coating to enlarge the shelf life of selected foods. Shelf life target increase of selected food products up to 15%
To produce new packages based on Bio-PET + hybrid and active coating with high water and oxygen barriers
To produce new packages based on Bio-PE + hybrid and active coating with high water and medium oxygen barriers
To produce new packages based on PHA middle chain + hybrid and active coating with high water and medium oxygen barriers
To demonstrate the safety & regulatory compliance, as well as environmental & economic sustainability of the developed processes and products
To maximize the innovation impacts of the project for contributing to the uptake of the project results for companies, business and employment growth
RefuCoat will have the following impacts
Improved mechanical and/or functional properties of the developed packaging products in a specific field as compared with state-of-the-art.
In the event that the project focuses on biodegradability or composability – then its contribution to fulfilling the European objective of reducing the recyclable content in landfilled waste down to the targets as per the EC's Landfill Directive, by showing reduction in landfilling as end-of-life option for packaging material as compared to baseline - should be considered as an impact. Biodegradability other than under industrial conditions should also be considered.
Reduction of costs, on a life cycle analysis basis, as compared to on-market materials.
In the event that the project focuses on the preservation of food products – then an Increase of at least 10% of the shelf life of the targeted products should be considered as an impact
Opening new markets for new applications of biodegradable material
Contribution to the BBI JU Key Performance Indicators (KPI), specifically:
Creation of at least 1 new cross-sectorial interconnection in bio-based economy clusters (KPI 1):
Set the basis for the creation of at least 1 new bio-based value chain based on the innovative products developed (KPI2), new bio-based materials (KPI 5), and for new demonstrated consumer products based on bio-based chemicals and materials (KPI 6), or significantly improve the production process of existing ones.
REFUCOAT project develops bio-based polymers and active coatings for sustainable food packaging
9 June 2021
Inexpensive, fossil fuel-based coated plastics keep foods fresher and safer for consumption, but their detrimental impact on the environment may outweigh their benefits. The BBI JU-funded REFUCOAT project has advanced bio-based alternatives leveraging microorganisms and natural metabolites. Read more
Bioplastics for high-performance sustainable packaging
27 November 2018
The aim of RefuCoat project is to develop totally recyclable and biodegradable packages for food products with proper safety characteristics, capable of extending the life of packaged products and therefore preventing food waste. Read more
Consortium map
Project coordination
AIMPLAS - ASOCIACION DE INVESTIGACION DE MATERIALES PLASTICOS Y CONEXAS

PATERNA VALENCIA, Spain
Consortium
FRAUNHOFER GESELLSCHAFT ZUR FORDERUNG DER ANGEWANDTEN FORSCHUNG EV

Munchen, Germany

MAICERIAS ESPANOLAS SA

ALMASSERA, Spain

CARTON BROS

CLONEE, Ireland

AGENCIA ESTATAL CONSEJO SUPERIOR DE INVESTIGACIONES CIENTIFICAS

Madrid, Spain

JOHANN HEINRICH VON THUENEN-INSTITUT, BUNDESFORSCHUNGSINSTITUT FUER LAENDLICHE RAEUME, WALD UND FISCHEREI

Braunschweig, Germany

APERITIVOS Y EXTRUSIONADOS SAU

RIBAFORADA, Spain

BIOPOLIS SL

PATERNA VALENCIA, Spain

AINIA

Paterna Valencia, Spain

MI-PLAST DOO ZA PROIZVODNJU, TRGOVINU I PRUZANJE USLUGA

Rijeka, Croatia

IRIS TECHNOLOGY SOLUTIONS, SOCIEDAD LIMITADA

CORNELLA DE LLOBREGAT, Spain

EUROPEAN FOOD INFORMATION COUNCIL

BRUXELLES, Belgium