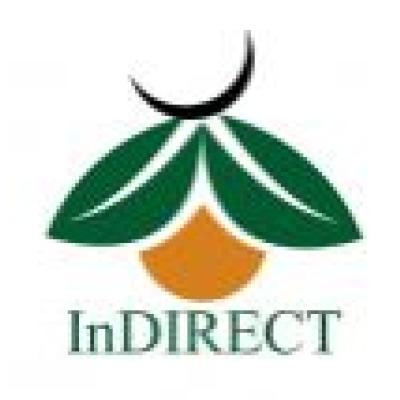 InDIRECT
Direct and indirect biorefinery technologies for conversion of organic side-streams into multiple marketable products
Project details
Type of project

Research & Innovation Action

Project focus

Food, feed & cosmetics

Feedstock type

Crop residues

Food industry sidestreams
Project period

1 November 2016 - 31 October 2019

CBE JU Contribution

€ 1 347 947,75

Call identifier

H2020-BBI-PPP-2015-02
Summary
The InDIRECT project aims to develop the use of indirect cascading biorefinery processes to convert underspent side streams from the agricultural and processing sectors into useful and marketable products.
The anticipated sidestreams include plant biomass from the primary, processing and retail sectors as well as other organic side-streams. A three-step bio-refinery model will be used to convert the varying side stream feedstocks into a homogenous biomass. In a unique and innovative approach, insects will be used to convert several side stream feedstocks into a more homogenous biomass, utilising their own biomass.
The resulting insect biomass will be processed (fractionalised) into crude extracts, which will then be purified and converted into new products and compounds. Anticipated products from the InDIRECT project include proteins and oligopeptides, Lipids, chitin, chitosan and derivatives, N-light compost and minor compounds.
The InDIRECT proposal aims to contribute to a post-petroleum society by exploring the potential of biorefinery approaches for waste recycling and re-use goals.
InDIRECT proposes new value chains for transforming agricultural and other side-streams into marketable products (and energy) via a cascading biorefinery approach, in a sustainable way, resulting in a significant reduction of greenhouse gases emissions.
InDIRECT activities will increase the conversion efficiency (product/ton of biomass in input) of side-streams compared to current situations.
The integrated processes proposed within InDIRECT will lead to products with significantly higher values than the current application of the biomass. Currently, agro-industrial & food side-streams are often used as feed or bio-energy source.
InDIRECT proposes a new value chain for converting biomass (like underspent side-streams) into valuable products via a homogenisation step with insects.
Year-round operation. One of the main problems of a biorefinery is the seasonal availability of the biomass, leading to non-efficient use of the processing plant. To cope with the heterogeneity of side-streams, a new value chain will be elaborated in InDIRECT that includes a homogenisation step (= smart combination & pre-treatment) in the biorefinery approach.
InDIRECT will develop a number of innovative processes and approaches that will result in new compounds and products.
InDIRECT activities will facilitate innovation and strengthen competitiveness and growth of pioneering companies with activities dedicated to side-stream recycling.
The success of new farming types and the introduction of new products in the market, is also dependent on their acceptance by the society. By studying and dissemination of project activities and results related to recycled products (like from manure, insects, etc.), it is expected that time to acceptance can be reduced.
Destructive insects produce high-value products from organic waste
10 November 2021
BBI JU-funded researchers and industry are putting insects to work – from termites that destroy wooden buildings to insect larvae that are outstanding natural waste converters. Packaging, cosmetics, pharmaceuticals and animal feed are just some of the products they are beetling away to make for us. Read more
Consortium map
Project coordination
VLAAMSE INSTELLING VOOR TECHNOLOGISCH ONDERZOEK N.V.

Mol, Belgium
Consortium
YNSECT NL R & D BV

Ermelo, Netherlands

UNIVERSITA DEGLI STUDI DI PARMA

Parma, Italy

CHEMSTREAM BVBA

Edegem, Belgium

INSTITUT MUTUALISE POUR LES PROTEINES VEGETALES

DURY, France

INNOVATIESTEUNPUNT VOOR LANDBOUW ENPLATTELAND

Leuven, Belgium

TEMPERIO

WESTERLO, Belgium

MILLIBETER

Turnhout, Belgium

NUTRITION SCIENCES

Drongen, Belgium