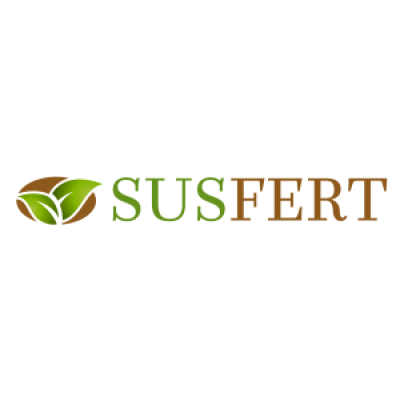 SUSFERT
Sustainable multifunctional fertilizer – combining bio-coatings, probiotics and struvite for phosphorus and iron supply
Project details
Type of project

Innovation Action - Demonstration

Project focus

Crop protection & fertilisation

Feedstock type

Food industry sidestreams

Lignin & wood residues
Project period

1 May 2018 - 31 December 2023

CBE JU Contribution

€ 6 549 154,69

Call identifier

H2020-BBI-JTI-2017
Summary
SUSFERT will develop multifunctional fertilisers for phosphorus and iron supply. Phosphorus is essential for crop production but is currently based on non-renewable resources. The SUSFERT project will develop sustainable new sources for novel fertilisers to partly or fully replace existing sources.
Specifically, it will reduce non-renewable phosphorus in fertilisers by 40 per cent, replace synthetic chelates for iron fertilisation, replace synthetic controlled release coatings and produce four compound fertilisers.
The overall objective for SUSFERT is to develop multifunctional fertilisers for phosphorus and iron supply that fit into existing production processes and EU agricultural practice. The specific objectives are to:
Obtain compatible probiotic and sustainable solutions for phosphorus and iron fertilisation;
Achieve cost effective enzymatically-modified lignin based coatings for product stabilisation and controlled release;
Produce microbial siderophore for use in fertilisers using a specifically-developed demonstration plant;
Develop and produce at least four fertiliser products that are fitting current production and existing application technology;
Obtain registration dossiers for organic formulations, granule, microgranule and liquid fertiliser solutions developed, following relevant field trials;
Identify the economic and environmental impact of SUSFERT products, their sustainability, any potential barriers to uptake and opportunities for their adaptation.
The SUSFERT project plans to:
Decrease existing dependence on rock phosphorus by 40%;
Valorise waste and by-products, increasing circular economy effects;
Reduce soil contamination;
Establish local value chains, contributing to rural communities;
Demonstrate novel green technologies.
Disrupting EU dependence on imported fertiliser compounds
09 May 2019
BBI JU SUSFERT project's highly sustainable bio-based fertilisers will replace conventional products, which are depending heavily on imported rock phosphate, and will valorise waste and by-products of several industries to strengthen the European circular economy.  Read more
Consortium map
Project coordination
RTDS - VEREIN ZUR FORDERUNG DER KOMMUNIKATION UND VERMITTLUNG VON FORSCHUNG, TECHNOLOGIE UND INNOVATION (RTDS VEREIN, ENGL. RTDS ASSOCIATION)

Wien, Austria
Consortium
UNIVERSITEIT ANTWERPEN

Antwerpen, Belgium

AIT AUSTRIAN INSTITUTE OF TECHNOLOGY GMBH

Wien, Austria

SAPPI PAPIER HOLDING GMBH

Gratkorn, Austria

AGRANA RESEARCH & INNOVATION CENTER GMBH

WIEN, Austria

AGROBIOGEL GMBH

TULLN AN DER DONAU, Austria

AGRO INNOVATION INTERNATIONAL

Saint-Malo, France

UNIVERSITAET FUER BODENKULTUR WIEN

Wien, Austria

SAPPI NETHERLANDS SERVICES BV

Maastricht, Netherlands

TIMAC AGRO DUNGEMITTELPRODUKTIONS UND HANDELS GMBH

WIEN, Austria

ACIES BIO BIOTEHNOLOSKE RAZISKAVE IN RAZVOJ DOO

Ljubljana, Slovenia

AGRANA STARKE GMBH

WIEN, Austria

ABITEP GMBH

Berlin, Germany