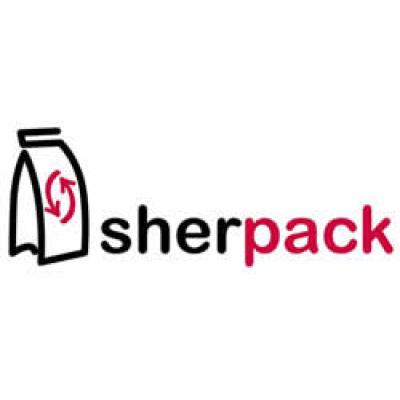 SHERPACK
Innovative structured polysaccharides-based materials for recyclable and biodegradable flexible packaging
Project details
Type of project

Research & Innovation Action
Project period

1 June 2017 - 30 November 2020

CBE JU Contribution

€ 1 294 445

Call identifier

H2020-BBI-JTI-2016
Summary
The SHERPACK project will develop a renewable, biodegradable and recyclable flexible paper-based packaging material that can be converted by heat-sealing and folding, with improved stiffness and grip. It will replace materials currently used to manufacture FFS (Form Fill Seal) packaging, such as plastics or aluminium foil with an advanced biomaterial.
SHERPACK's overall objective is to develop a renewable, biodegradable and recyclable flexible paper-based packaging material. The project has defined five specific objectives:
Development of a high barrier cellulosic material that will offer excellent barrier properties to oxygen and mineral oil, while bringing improved stiffness for the packaging. This will be enabled through an innovative technology, i.e. wet lamination of a thin layer of fibre specialty and the use of dedicated materials.
Development of a biodegradable polymer water-borne emulsion. This emulsion will be coated onto the fibre specialty laminated paper substrate, providing an excellent barrier to water and water vapour as well as heat sealability, made possible through innovative biopolymer mixing and stabilisation approaches.
Development of a water-borne polysaccharide-based ink that will be locally applied, preferably via screen printing, onto the flexible paper using a custom designed grid to offer improved weight to stiffness ratio and better grip.
Production of two proofs-of-concept materials. These will represent the main achievements of SHERPACK and will be produced in relevant industrial environment to in order to validate the approaches.
Driving of all developments by continuously taking into account all the constraints and requests from the packaging value chain. This will be done by assessing technical and environmental performances of the developed materials against existing market references, developing Life Cycle Assessment (LCA) and Life Cycle Costing (LCC), conducting carrying out biodegradability analyses and submitting the developments to an advisory group of the main packaging players.
The SHERPACK project expects a number of impacts:
From a mechanical and functional perspective, SHERPACK aims to deliver improved bending stiffness, reduced weight and improved grip from the specific polysaccharides printed grid. It will also maintain equivalent oxygen and contaminant barriers from the fibre specialty layer, and equivalent water vapour barrier from the biodegradable polymer layer.
From a biodegradability perspective, SHERPACK will promote development of a new recyclable and biodegradable material that will enter in the paper waste stream. SHERPACK aims at keeping the paper share in the flexible packaging materials, which will favour recycling over landfilling.
From a cost reduction perspective, SHERPACK will improve the environmental impact and costs of packaging thanks to better stiffness to weight ratio and bio-based material use. It will also reduce the impact of transport due to lighter packaging materials.
From a food preservation perspective – although not a focus of the project – SHERPACK's barrier performance targets, as set out in the mechanical and technical properties, are at least equivalent to the market reference materials. This will ensure at least the same shelf life.
Consortium map
Project coordination
CENTRE TECHNIQUE DE L INDUSTRIE DESPAPIERS CARTONS ET CELLULOSES

Gieres, France
Consortium
INSTITUTO TECNOLOGICO DEL EMBALAJE, TRANSPORTE Y LOGISTICA

Paterna, Spain

BORREGAARD AS

SARPSBORG, Norway

AHLSTROM-MUNKSJÖ SPECIALTIES

Bousbecque, France

CONSIGLIO NAZIONALE DELLE RICERCHE

Roma, Italy

CARGILL DEUTSCHLAND GMBH

Krefeld, Germany