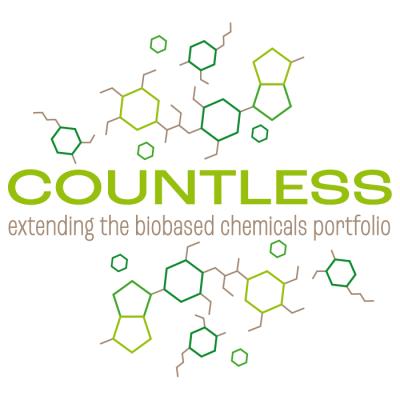 COUNTLESS
Cost-effective prOdUction of ligNin plaTform chemicaLs Extending the biobaSed chemicalS portfolio
Project details
Type of project

Innovation Action - Demonstration

Project focus

Bio-based chemicals
Project period

1 September 2023 - 31 August 2027

CBE JU Contribution

€ 5 400 014

Call identifier

HORIZON-JU-CBE-2022
Summary
Achievement of Europe's sustainability and climate goals requires a transition from fossil-based to bio-based chemical building blocks. As an abundant natural resource, lignin has substantial potential to serve as a starting material for the production of functionalised aromatic compounds. However, only 1-2% of annual lignin production is used as aromatic chemical building blocks that provide an alternative to their fossil-based counterparts. 
Involving partners covering the entire value chain, COUNTLESS will demonstrate the first continuous process of its kind in industrially relevant conditions for the cost-effective and sustainable production of lignin-based platform chemicals. It will also show how such chemicals can be applied to a variety of end uses, leading to the conclusion of licensing agreements and generation of revenue streams. 
COUNTLESS aims to: 
demonstrate the continuous conversion of lignin, via catalytic hydrogenolysis, into platform chemicals at industrially relevant conditions (TRL 7); 

produce and demonstrate a range of construction and cosmetics products using the lignin-based platform chemicals; 

use digital tools for process monitoring and decision support related to product quality; 

prove the sustainability of the lignin-based value chain and its improved environmental impact, cost-effectiveness and cost competitiveness compared with fossil-based or other bio-based value chains; 

maximise exploitation of the COUNTLESS technologies; 

develop strategies to ensure market uptake of the project results. 
increase resource efficiency thanks to the use of a sustainable and underused biomass source (lignin) for chemical production; 

diversify the EU-produced and bio-based chemical portfolios through the cost-effective production of novel lignin-based platform chemicals; 

enhance the sustainability and competitiveness of the European chemical industry thanks to reduced dependence on aromatics from outside of the EU, substitution of fossil-based chemicals with bio-based alternatives and low-emission production processes with a clear pathway to carbon neutrality; 

increase market uptake and public acceptance of bio-based solutions resulting from demonstration of high-quality, sustainable platform chemicals for a wide range of applications. 
Consortium map
Project coordination
VLAAMSE INSTELLING VOOR TECHNOLOGISCH ONDERZOEK N.V.

Mol, Belgium
Consortium
SOPREMA S.R.L

Chignolo D Isola, Italy

TEKNOLOGIAN TUTKIMUSKESKUS VTT OY

Espoo, Finland

DAREN LABORATORIES & SCIENTIFIC CONSULTANTS LTD

Nes Ziona, Israel

IFEU - INSTITUT FUR ENERGIE- UND UMWELTFORSCHUNG HEIDELBERG GGMBH

Heidelberg, Germany

BRASKEM EUROPE GMBH

Wesseling, Germany

FIBENOL OU

Tallinn, Estonia

SOPREMA

STRASBOURG, France

UNIVERSITEIT UTRECHT

Utrecht, Netherlands

CLUSTER INDUSTRIELLE BIOTECHNOLOGIE EV

Dusseldorf, Germany

KASTAMONU ENTEGRE AGAC SANAYI VE TICARET ANONIM SIRKETI

Istanbul, Turkey

SOPREMA

STRASBOURG, France