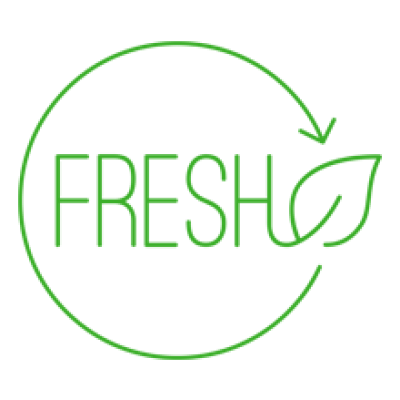 FRESH
FRESH - Fully bio based and bio degradable ready meal packaging
Project details
Type of project

Innovation Action - Demonstration
Project period

1 February 2017 - 31 July 2020

CBE JU Contribution

€ 5 636 812,50

Call identifier

H2020-BBI-PPP-2015-02
Summary
Ready meal consumption continues to grow throughout Europe – 6.5 billion and growing. The trays they come in are creating vast quantities of waste, many of which go for landfill.
The FRESH project will demonstrate an innovative, cellulose-based alternative to existing fossil-based plastic trays, which is a fully bio-based and biodegradable composite material.
The project will deliver a full value chain that will demonstrate the techno-economic viability (including customer satisfaction) of a 100% bio-based and 100% biodegradable alternative made from an innovative cellulose-based composite, using a new lamination technology.
The overall objective is to do a demonstration with an innovative cellulose-based packaging composite material as fully bio-based and biodegradable alterative for the PET/ CPET ready meal trays.
Deliver a food safe, GMO-free and 100% bio-based and biodegradable product.
Be at least 10% lighter than the fossil alternative (PET)
Deliver the same or better technical and functional properties than a PET food tray
Show a radically improved environmental footprint (CO2 reduction of more than 80%) over the product lifecycle than competing fossil-based packaging material;
Open up new applications and markets and increase the competitiveness of the European pulp, board and paper making industries, additionally showing high potential in terms of job creation in rural areas, moreover showing high potential for replicability in Europe.
FRESH will create a fully bio based ready meal package is vital to ensure that more sustainable packages are fabricated durable in the packaging industry
Delivering a safe 100% bio-based and biodegradable product
Environmental improvement | > 10% weight reduction and > 50% CO2 reduction
More than 50% CO2 emission reduction compared to competing fossil-based packaging material
Bio-based ready meal tray awarded 'Bio-based Material of the Year 2020'
18 May 2020
The bio-based and biodegradable material is a substitute for the particularly pernicious black plastic packaging. FRESH has received the recognition given by the Nova Institute, in the framework of the 13th International Conference on Bio-based Materials. Read more
New fibre-based ready meal trays to replace black plastic
22 May 2019
A chain of British supermarkets is launching a ready-meal range in new fiber-based trays which were made as part of the BBI JU FRESH project. The new trays can be recycled, and they are also certified for home composting. Read more
How a bio-based solution can solve our plastic tray problem
08 October 2018
Project Fresh has developed an urgently needed alternative to the particularly pernicious black plastic packaging by creating a food safe, fully bio-based and biodegradable packaging made of Durapulp, a bio-composite made of cellulose pulp and biopolymer. Read more
Bio-based, biodegradable packaging for convenience foods
12 June 2018
The BBI JU's project, FRESH, has developed game-changing food packaging material that is rapidly biodegradable. The material is a means to replace the plastic packing used for ready meals and reduce pollution. Read more
Consortium map
Project coordination
HUHTAMAKI MOLDED FIBER TECHNOLOGY BV

Franeker, Netherlands
Consortium
HUTAMAKI LA ROCHELLE

Lile Delle, France

HUHTAMAKI (LURGAN) LIMITED

Craigavon, United Kingdom

SAMWORTH BROTHERS LIMITED

Melton Mowbray, United Kingdom

SODRA SKOGSAGARNA EKONOMISK FORENING

Vaxjo, Sweden