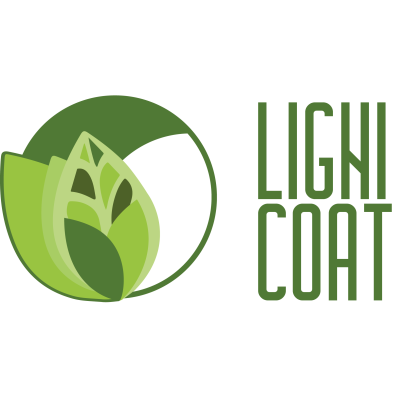 LIGNICOAT
Sustainable COATings based on LIGNIn resins and bio-additives with improved fire, corrosion and biological resistance
Project details
Type of project

Research & Innovation Action

Project focus

Bio-based polymers & plastics
Project period

1 June 2021 - 30 November 2024

CBE JU Contribution

€ 3 755 470,75

Call identifier

H2020-BBI-JTI-2020
Summary
The issue of sustainability is multifactorial; it is not restricted to the materials with which items are fabricated; it also embraces the various coatings that many of them rely on. The issue of sustainability in coatings is one of energy and resource conservation, waste minimisation or efficiency and the use of renewable and non-toxic products. Regulatory demands have meant that the coatings industry has had to reduce its reliance on those solvents based on volatile organic compounds, instead looking to water-based alternatives.
However, the reality is that the content of even the most environmentally friendly products is usually no more that 30-40% biobased. In part, this is because manufacturing effective bio-based coatings is a challenging process. Furthermore, those that do exist are based on raw materials derived from outside Europe. The LIGNICOAT project will seek to demonstrate the technical, economic and environmental viability of innovative routes to produce lignin-derived bioresins for coatings and validate the new processes at pilot scale in an industrial relevant environment. Lignin is a plentiful and underused biological resource. These will increase the bio-based content of coatings – as high as 60-90% - and take advantage of characteristics specific to lignin to develop bio-additives that will increasing the bio-content and provide anticorrosive, fireproof and antimicrobial features.
In addition, the LIGNICOAT project will investigate a wider strategy, combining a number of strands. These include developing eco-innovative lignin-based materials to create more sustainable coating, exploiting synergies between industrial sectors and implementing methodologies to encourage the wider understanding and adaptation of these products. This will drive the transition of the paints and coatings industries to biobased products.
The overarching objective of the Lignicoat project is to demonstrate the technical and economic feasibility of using lignin as a basis for producing bioresins for a range of applications in the field of functional coatings.
Within this, it will pursue a number of specific objectives. These will include:
From a social perspective, the technology of the processes will help develop a range of new jobs in the bioeconomy. Many of these will be for highly skilled people. As a result, it should help reduce unemployment in Europe; many of these will be in rural areas, where lignin is sourced. At a European level, it will boost the expertise and thus the overall global competitiveness of the burgeoning bio-based sector. An additional benefit is that using lignin means there will be no encroachment on the human food chain and our dependence on imported, crop-based bio-coatings will be reduced.
From an environmental perspective, it will continue and enhance the shift within industry from fossil-based sources to biobased alternatives. Biobased coatings offer a lower environmental impact and improved biodegradation qualities. In addition, by replacing petrochemical components with renewable chemical substitutes LIGNICOAT-based solutions will significantly lower GHG emissions reduction. It will also help address growing concerns over the impact of existing solvents, which can create a number of health hazards.
The LIGNICOAT project is aiming at delivering a number of impacts that will contribute to the wider goals of the BBI-JU. These will include:
Establishing a new cross-sectoral interconnection between the lignin supply chain and the industrial partners, i.e., the resin and coating manufacturers.
Creating a new bio-based value chain, opening up new paths for lignin use in developing new bio-coatings.
Investigating the feasibility of three new lignin-based bio-based chemicals, namely lignin polyols, lignin epoxies and lignin polyacids as well as three new biobased materials PU resins, alkyd resins and epoxy resins. From these, there should be the basis for two new products.
Advancing the TRL of several of the technologies under investigation.
Consortium map
Project coordination
FUNDACION TECNALIA RESEARCH & INNOVATION

DONOSTIA-SAN SEBASTIAN (GIPUZKOA), Spain
Consortium
BARNICES Y PINTURAS MODERNAS SOCIEDAD ANONIMA

Najera, Spain

VLAAMSE INSTELLING VOOR TECHNOLOGISCH ONDERZOEK N.V.

Mol, Belgium

ASSOCIATION POUR LA RECHERCHE ET LEDEVELOPPEMENT D'INNOVATIONS ET DETECHNOLOGIES POUR LA PROTECTION DEL'HERITAGE ENVIRONNEMENTAL, SOCIAL

Nice, France

VENCOREX FRANCE SAS

Saint Priest, France

TEKNOLOGIAN TUTKIMUSKESKUS VTT OY

Espoo, Finland

WESTLAKE EPOXY BV

Pernis Rotterdam, Netherlands

AXIA INNOVATION UG

MUNCHEN, Germany

INSTITUTO TECNOLOGICO AGRARIO DE CASTILLA Y LEON

Valladolid, Spain

FORESA TECHNOLOGIES S.L.

Pontevedra, Spain

AEP POLYMERS SRL

Trieste, Italy

UNIVERSIDAD DEL PAIS VASCO/ EUSKAL HERRIKO UNIBERTSITATEA

Leioa, Spain

NORCE NORWEGIAN RESEARCH CENTRE AS

Bergen, Norway

IRIS COATINGS SRL

BASALUZZO, Italy