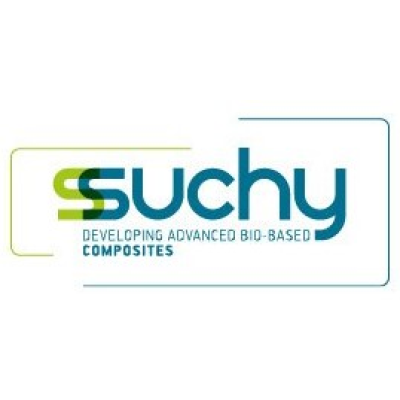 SSUCHY
Sustainable structural and multifunctional biocomposites from hybrid natural fibres and bio-based polymers
Project details
Type of project

Research & Innovation Action

Project focus

Construction

Feedstock type

Crop residues

Lignin & wood residues
Project period

1 September 2017 - 28 February 2022

CBE JU Contribution

€ 4 457 194,75

Call identifier

H2020-BBI-JTI-2016
Summary
The SSUCHY project seeks to contribute to developing bio-based composite products with advanced functionalities and high structural properties for transportation sectors and in high value market niches.
It will create opportunities to expand market applications for bio-based composites to semi-structural and functional applications in ground transportation and aerospace along with new opportunities in high value niches such as acoustics and electronic sectors.
It aims to exploit the intrinsic and differentiating properties of plant fibres and bio-based polymers to develop and enhance the functionalities of bio-based composites.
The SSUCHY project has five core objectives:
Leverage the intrinsic properties of plant fibres to realise new functionalities in plant fibre composites (PFCs) and to create new opportunities in high value market niches, for example in next-generation of smart materials.
Take advantage of the availability and low cost of hemp fibres, along with their technical and environmental-friendly characteristics to market a high-performance plant fibre reinforcement for composite application at a competitive price.
Use the wide diversity of plant and polymeric fibres to create and design hybrid composites with specific properties and functionalities.
Take advantage of availability and versatility of ligno-cellulosic feedstock and the chemical building blocks it provides to develop biopolymers with improved physical properties while remaining essentially recyclable and/or biodegradable.
Deploy novel new fractionation processes for lignocellulosic biomass to generate tailor lignin-derived monomers suitable for high-grade polymers synthesis.
The SSUCHY project expects to have the following impacts:
Increase the sustainability and the competitiveness of Europe's industry through engagement in the bio-based composite sector through the materials and process technologies it develops;
Create new bio-based composite structures and products and demonstrate their advanced functionalities at demonstrator level.
Longitudinal harvest for hemp fibre production
SSUCHY project develops bio-based aircraft wings to address plastic pollution
22 July 2021
Trees, crops and even organic waste can be transformed into a bewildering array of plastics to use in products ranging from single-use bags to heavy-duty aeroplane wings. Read more
SSUCHY project promotes sustainable development with advanced bio-based composites
9 March 2021
The BBI JU-funded SSUCHY project demonstrates the potential of sustainable bio-based composite applications in the aerospace, acoustics and automotive sectors. Read more
Consortium map
Project coordination
UNIVERSITE DE FRANCHE-COMTE

Besancon, France
Consortium
WILSON BENESCH LTD

Sheffield, United Kingdom

UNIVERSITE DIJON BOURGOGNE

Dijon Cedex, France

ECOLE NATIONALE D'INGENIEURS DE TARBES

Tarbes, France

UNIVERSITY OF DERBY

Derby, United Kingdom

ECOLE NATIONALE SUPERIEURE ARTS INDUSTRIES TEXTILES

Roubaix, France

MARZOTTO LANE GAETANO MARZOTTO & FIGLI SPA

Valdagno, Italy

BIOECONOMY FOR CHANGE

Barenton Bugny, France

NPSP BV

Amsterdam, Netherlands

CERZOO S.R.L.

Piacenza, Italy

UNIVERSITY OF BRISTOL

Bristol, United Kingdom

ECOLE NATIONALE SUPERIEURE DE MECANIQUE ET DES MICROTECHNIQUES

Besancon Cedex, France

EADCO GMBH

Munchen, Germany

CENTRE NATIONAL DE LA RECHERCHE SCIENTIFIQUE CNRS

Paris, France

KATHOLIEKE UNIVERSITEIT LEUVEN

Leuven, Belgium

AKZO NOBEL FUNCTIONAL CHEMICALS BV

Amersfoort, Netherlands

UNIVERSITA CATTOLICA DEL SACRO CUORE

Milano, Italy

LINIFICIO E CANAPIFICIO NAZIONALE SRL

Valdagno, Italy

STOCKHOLMS UNIVERSITET

Stockholm, Sweden

ECOLE NATIONALE SUPERIEURE DE CHIMIE DE PARIS

Paris Cedex 05, France