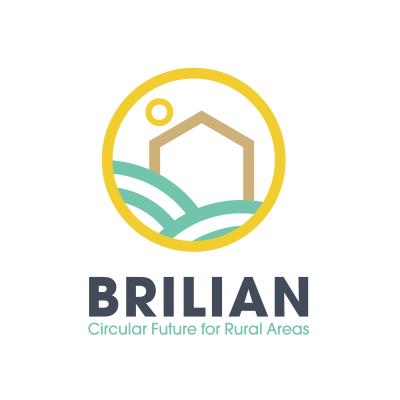 BRILIAN
Cooperative business models for bio-based chains in rural areas
Project details
Type of project

Innovation Action - Demonstration

Project focus

Food, feed & cosmetics

Feedstock type

Crop residues

Dedicated crops

Food industry sidestreams
Project period

1 June 2023 - 31 May 2027

CBE JU Contribution

€ 4 886 349,75

Call identifier

HORIZON-JU-CBE-2022
Summary
BRILIAN supports adopting sustainable, cooperative business models in rural areas to enhance rural development and protect biodiversity and the climate. These models will allow farmers to increase their incomes and diversify their income sources, thereby reducing economic risks.
To develop and test the models, the project is implementing three pilots in Denmark, Italy and Spain. These pilots – which use and adapt existing rural infrastructure – consist of actions aimed at forging robust rural bio-communities, achieving circularity and sustainability, creating short supply chains and producing value-added bio-based products. They will lead to the design and optimisation of 10 bio-based value chains: six in Italy, two in Spain and two in Denmark.
The overall aim of BRILIAN is to validate a set of actions that will allow to establish long-term bio-based value chains and promote cooperative business models encompassing primary producers and other actors. To achieve this, the partners are looking to:
forge robust collaborations, leading to the adoption of cooperative business models in the primary sector;
map and assess trade-offs and synergies in the bioeconomy and benchmark where the project has improved on existing solutions in the bioeconomy and other sectors;
minimise potential negative environmental impacts of the bioeconomy by setting up and optimising sustainable value chains;
create a framework for assessing value chains;
support the design of bio-based business models for the development of rural areas;
validate 10 bio-based value chains for the production of bioproducts;
establish a roadmap for adopting BRILIAN solutions in other regions by creating synergies with other initiatives.
In the long term, BRILIAN will support the development of a more sustainable, secure and competitive bioeconomy by helping to achieve objectives laid down in the EU's Bioeconomy Strategy, Common Agricultural Policy and Strategic Research and Innovation Agenda related to the adoption of sustainable, cooperative bio-based business models. Its contribution to this involves the following:
identification of barriers to the development of bio-based value chains in rural areas;
conversion of three value chains into 10 sustainable bio-based businesses producing 10 value-added bioproducts, including food, animal feed, plastics, lubricants, herbicides, fertilisers, cosmetics and adhesives;
production of more than 33 tonnes of oil and annual recovery of 450 tonnes of starch and 1,000 kg of rapeseed waste to make bio-based products;
recirculation of 140,000 m³ of water a year to process starch;
recovery of more than 55 hectares of land through regenerative agricultural practices;
conclusion of 42 agreements between primary producers and industrial actors;
creation of more than 30 jobs, involvement of around 100 farmers and primary producers and development of six campaigns and training actions in rural areas.
Consortium map
Project coordination
FUNDACION CIRCE CENTRO DE INVESTIGACION DE RECURSOS Y CONSUMOS ENERGETICOS

Zaragoza, Spain
Consortium
NOVAMONT SPA

Novara, Italy

CHIMAR (HELLAS) AE - ANONYMI VIOMICHANIKI KAI EMPORIKI ETAIREIA CHIMIKON PROIONTON

Thermi Thessaloniki, Greece

EUROPEAN BIOECONOMY BUREAU

Bruxelles / Brussel, Belgium

FUNDACION AITIIP

Zaragoza, Spain

ASOCIACION CLUSTER FOOD+I

De Calahorra La Rioja, Spain

TEKNOLOGISK INSTITUT

Taastrup, Denmark

DANSK LANDBRUGS GROVVARESELSKAB AMBA

Fredericia, Denmark

BIOEAST HUB CR, Z. U.

PRAHA 5, Czechia

PROCESADOS DE PATATA PATURPAT S COOP

VITORIA-GASTEIZ, Spain

NUEVAS TECNOLOGIAS PARA EL DESARROLLO DE PACKAGING Y PRODUCTOS AGROALIMENTARIOS CON COMPONENTE PLASTICA SL

Zaragoza, Spain