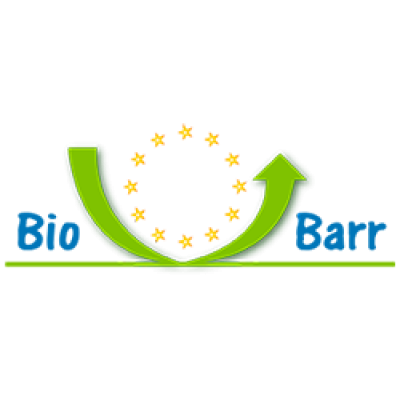 BioBarr
New bio-based food packaging materials with enhanced barrier properties – BioBarrier
Project details
Type of project

Research & Innovation Action

Feedstock type

Food industry sidestreams
Project period

1 June 2017 - 30 November 2021

CBE JU Contribution

€ 3 253 437,50

Call identifier

H2020-BBI-JTI-2016
Summary
BioBarr will develop new bio-based and biodegradable food packaging materials by improving the barrier function of the biopolymer PHAs (polyhydroxyalkanoates). These have the potential to replace conventional polymers, possessing similar properties with higher biodegradability and better functional properties and mechanical strength
Currently, using PHAs for food packaging has some limitations, particularly in transmitting oxygen and water. This makes them less than ideal for dry products as bakeries, where loss of crispiness and oxidation of fats can be a problem. BioBarr aims to overcome this by improving vapour and gas barrier properties through material functionalisation. This involves compounding biodegradable materials in multi-layer structures specific for the food product category to be packed. It will also look at surface treatments as a further step.
The BioBarr project should create a new bio-based value chain, from bio-plastic producer to food industry end-user.
The main objectives of the BioBarr project are:
To make and study different films based on PHA suitable for the targeted food packaging applications. These films will be produced using completely natural processes, using raw material derived from wastes and agro-industrial co-products.
To study methods of PHA coating treatments without affecting the biodegradability.
To study methods to combine PHA with PLA (polylactic acid) to improve the oxygen and humidity barrier properties.
To study the compatibility of new biodegradable inks with the new PHA films.
To determine the food safety, the legislative compliance and the industrial economic feasibility of these materials for food packaging applications.
To test the most promising materials as food packaging for bakery products, in collaboration with the food industry.
To assess environmental and economic performance of the bio-based materials.
The BioBarr project seeks to deliver the following impacts
Create a viable bio-based alternative to fossil-based polymers for food packaging.
Reduce overall costs, as measured on a life cycle analysis basis, compared to on-market materials.
Improve the mechanical and/or functional properties of the new packaging materials in a specific field, as compared to state-of-the-art.
Increase the shelf-life of the targeted food products by at least 10 percent.
In the specific area of biodegradability, to contribute to the EU target of reducing the recyclable content in landfilled waste, by demonstrating that landfilling reduces as an end-of-life option for packaging material.
In addition, it will seek to create new markets for new applications of biodegradable materials.
Consortium map
Project coordination
TECNOALIMENTI SCPA

Milano, Italy
Consortium
ICIMENDUE SRL

Caserta, Italy

CENTRO NACIONAL DE TECNOLOGIA Y SEGURIDAD ALIMENTARIA

San Adrián, Spain

CORSINI BAKERY DOLCI E BISCOTTI SRL

Castel del Piano, Italy

KAO CHIMIGRAF SLU

RUBI, Spain

TAMPEREEN KORKEAKOULUSAATIO SR

Tampere, Finland

DANMARKS TEKNISKE UNIVERSITET

Kongens Lyngby, Denmark
Former member
BIO-ON SPA

SAN GIORGIO DI PIANO, Italy