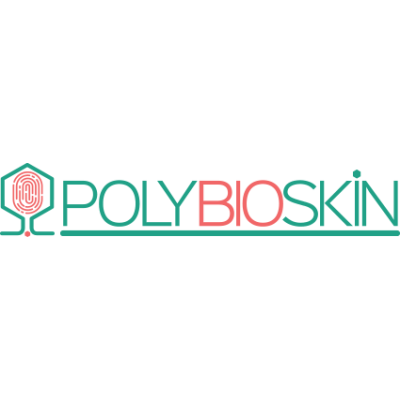 POLYBIOSKIN
High performance functional bio-based polymers for skin-contact products in biomedical, cosmetic and sanitary industry
Project details
Type of project

Research & Innovation Action

Project focus

Bio-based polymers & plastics
Project period

1 June 2017 - 31 July 2020

CBE JU Contribution

€ 3 438 047,50

Call identifier

H2020-BBI-JTI-2016
Summary
Biopolymers offer high antimicrobial, antioxidant, absorbency, skin compatibility for high performance demanding skin-contact applications. These include would dressings, children's nappies and facial beauty masks.
However, many of the polymers used in biomedical and cosmetic applications rely on fossil-derived sources. Although a number of alternative bio-based polymers is the subject of recent research, more effort is still needed to increase their specific functionalities and performances in order to proceed with their true translation into market.
The POLYBIOSKIN project seeks to broaden the use of biopolymers in strategic and demanding skin-contact applications by developing skin-contact bio-polymer based product parts with increased performance and functionality derived from biomass and food waste, providing a more environmentally friendly end of life given their biodegradability allowing organic recycling.
POLYBIOSKIN is focused on delivering nine core objectives:
Developing and validating a fully biodegradable nappy with a skin-compatible surface and a biopolymer-based superabsorbent, enriched with antimicrobial and antioxidant functionalities to prevent skin reddening and inflammation.
Developing and validating a fully biodegradable and bioactive facial beauty masks based on biopolymers, in the form of a film or a nonwoven tissue impregnated with formulations based on natural compounds.
Developing a nanostructured biocompatible non-woven tissue for use in wound dressings.
Assessing the skin compatibility of the developed bio-plastics, biopolymers and natural molecules, new textiles or films using ethically sustainable testing.
Increasing the renewable content of personal care applications, cosmetics products and wound dressings.
Reducing the environmental impact of the target products to improve end of life options through ecodesign.
Increasing the knowledge and understanding of smart nanotechnologies and nanomaterials as applied to biopolymers and validating them in the market.
Demonstrating the both the safety and regulatory compliance and the environmental and economic sustainability of the developed processes and products.
Maximising the contribution of the project results to growth and jobs.
POLYBIOSKIN will create further innovation in the green economy, placing Europe in a leading position in the development of high-performance, eco-friendly biopolymers.
POLYBIOSKIN nappies will improve waste management practices, in particular replacing incineration and landfilling with organic recycling without compromising sustainable mechanical recycling options.
POLYBIOSKIN that can unlock the opportunities for substituting conventional fossil-based materials with more sustainable bio-based ones beyond packaging applications into high-value market niches
It will also contribute to Europe's target of 20% of the chemicals and materials production being bio-based by 2020.
It will also help bring the consumer sector the advantages of advanced bio-based and biodegradable materials
POLYBIOSKIN project develops novel materials for high-performance, eco-friendly skin-contact products
2 February 2021
Companies haven't paid much attention to the environmental impact of skin-contact products like diapers and wound dressings. The BBI JU-funded POLYBIOSKIN project introduced new materials for more sustainable, environmentally friendly products. Read more
Sustainable nappies for eco-friendly generations
15 July 2019
EU statistics report that some seven million babies in Europe use up to 36 million disposable nappies in only one day. BBI JU POLYBIOSKIN and EMBRACED projects are sketching out different solutions to reduce the pollution from plastics in diapers. Read more
Consortium map
Project coordination
IRIS TECHNOLOGY SOLUTIONS, SOCIEDAD LIMITADA

CORNELLA DE LLOBREGAT, Spain
Consortium
BIOINICIA SL

Paterna, Spain

FIBROLINE SA

Limonest, France

THE UNIVERSITY OF SHEFFIELD

Sheffield, United Kingdom

LASER CONSULT MUSZAKI-TUDOMANYOS ES GAZDASAGI TANACSADO KORLATOLT FELELOSSEGU TARSASAG

Szeged, Hungary

UNIVERSITEIT GENT

Gent, Belgium

TEHNOLOSKI FAKULTET NOVI SAD

Novi Sad, Serbia

CONSORZIO INTERUNIVERSITARIO NAZIONALE PER LA SCIENZA E TECNOLOGIA DEI MATERIALI

Firenze, Italy

UNIVERSITA DI PISA

Pisa, Italy

ASSOCIATION POUR LA RECHERCHE ET LE DEVELOPPEMENT DES METHODES ET PROCESSUS INDUSTRIELS

Paris, France

INSTITUT MINES-TELECOM

Palaiseau, France

EUROPEAN BIOPLASTICS EV

Berlin, Germany
Former member
THE UNIVERSITY OF WESTMINSTER LBG

London, United Kingdom

EXERGY LTD

Coventry, United Kingdom

MAVI SUD SRL

APRILIA LATINA, Italy