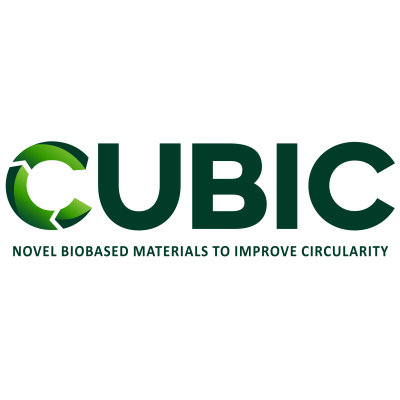 CUBIC
Improving the cirCUlarity of complex plastic multi-material composites using novel BIobased materials in B2B semi-finished produCts
Project details
Type of project

Research & Innovation Action

Project focus

Bio-based polymers & plastics

Feedstock origin

Agri-food

Aquatic

Forest-based

Industrial and municipal waste

Feedstock type

Bioplastics

Lignin & wood residues
Project period

1 September 2023 - 28 February 2027

CBE JU Contribution

€ 4 683 365,49

Call identifier

HORIZON-JU-CBE-2022
Summary
CUBIC is developing sustainable and circular bio-based materials, including polyamides, pre-pregs and carbon fibres for use in thermoplastic and thermoset plastic intermediate products such as filaments, sheets, unidirectional tapes, pellets and powders. These intermediate products will be assembled into complex end-products. 
The project's modular approach will allow the characteristics of the complex products to be adapted to unconventional production processes, thereby overcoming current technical and environmental limitations so as to meet the needs of various sectors. 
Two end-products will be validated: a pressure vessel for gas storage and a car seat. CUBIC will also demonstrate the disassembly, recycling and recovery of the components. 
CUBIC aims to increase the sustainability of complex products made from advanced composite thermoset plastic and thermoplastic structures by developing new circular bio-based materials. Its specific objectives are to: 
develop and validate three 100% bio-based materials and at least seven circular intermediate products and combine the intermediate products into two end-products that meet all technical and environmental requirements; 

demonstrate a circular and sustainable production system in two value chains – thermoplastic and thermoset plastic products; 

explore the potential of the intermediate products in at least three other sectors, such as sports equipment, aeronautics and railway transport, and for other automotive products; 

validate processes for disassembly, recycling and recovery of the products to highlight their circularity; 

assess the environmental, social and ethical impacts of the products and develop chemical safety assessments and toxicology profiles for them; 

apply artificial intelligence tools to improve the performance of the materials; 

communicate project outputs to 300 researchers, 100 industrial representatives, 50 policymakers and 2 500 citizens; 

create two training programmes – one for scientists and engineers, one for industrial workers – on the circular economy and smart, green manufacturing practices. 
CUBIC is expected to contribute to the green and digital transformation of European manufacturing by: 
increasing the availability of circular bio-based materials for intermediate products and of renewable carbon sources for more sustainable production and consumption, especially in the chemical and plastics sectors; 

diversifying the bio-based material and intermediate product portfolios and widening the scope of their applications to support the creation of innovative bio-based end-products in a range of sectors; 

helping to reduce soil and water contamination caused by waste generation; 

developing a sustainable, circular production model for bio-based industry built on flexible (using prefabricated or modular parts), decentralised, customised and low-cost manufacturing. 
Consortium map
Project coordination
FUNDACION AITIIP

Zaragoza, Spain
Consortium
NOVAMONT SPA

Novara, Italy

FUNDACION CIRCE CENTRO DE INVESTIGACION DE RECURSOS Y CONSUMOS ENERGETICOS

Zaragoza, Spain

CENTRE SCIENTIFIQUE & TECHNIQUE DEL'INDUSTRIE TEXTILE BELGE ASBL

Bruxelles / Brussel, Belgium

Q-PLAN INTERNATIONAL ADVISORS PC

Kalamaria, Thessaloniki, Greece

UNIVERSITY OF LIMERICK

Limerick, Ireland

IDENER RESEARCH & DEVELOPMENT AGRUPACION DE INTERES ECONOMICO

LA RINCONADA SEVILLA, Spain

SPECIFIC POLYMERS

Castries, France

COMFIL APS

Gjern, Denmark

DEUTSCHE INSTITUTE FUR TEXTIL- UND FASERFORSCHUNG DENKENDORF

Denkendorf, Germany

FUNDACION CIDETEC

San Sebastian, Spain

MOSES PRODUCTOS SL

Zaragoza, Spain

TEQUINSON SERVICIOS SL

LA MUELA, Spain