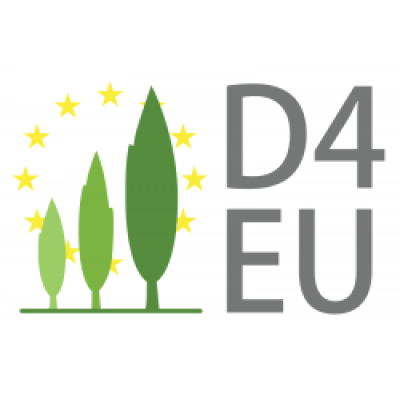 Dendromass4Europe
Securing Sustainable Dendromass Production with Poplar Plantations in European Rural Areas
Project details
Type of project

Innovation Action - Demonstration

Project focus

Construction
Project period

1 June 2017 - 30 November 2022

CBE JU Contribution

€ 9 166 453,30

Call identifier

H2020-BBI-JTI-2016
Summary
Dendromass4Europe (D4EU) aims at establishing sustainable, Short-Rotation Coppice (SRC)-based, regional cropping systems for agricultural dendromass production on marginal land. The dendromass produced in SRC (ligneous biomass, bark and wood) will be supplied to bio-based value chains which will create additional job opportunities in rural areas.
The scientifically proven advantages of SRC for agro-ecosystems and for dedicated, sustainable wood supply are well known in Europe, but there is hardly any large developed SRC dendromass supply chain for industrial use. D4EU will establish a large regional SRC dendromass supply chain dedicated for separate material use of wood and bark. The supply chain will be adapted to meet European structural and legal framework conditions, it will include efficient supply logistics and it will help to reduce CO2 emissions along the value chains.
The various activities of the D4EU project consortium aim to generate profit for the rural economy on a regional scale through value adding processes and marketing activities that will allow access for innovative bio-based materials to specific consumer markets.
Dendromass4Europe has the following objectives:
The establishment and expansion of 2500 ha of dendromass crops (short rotation poplar plantations), including in marginal or currently unused agricultural land in rural areas of the Slovak Republic, Hungary and possibly the Czech Republic.
The establishment of four new bio-based value chains based upon the separation of the bark from the poplar trunks and upon separately adding higher value to both raw materials
Reduction of dendromass costs through the adaptation and optimisation of innovative harvesting/forwarding and storage systems
Demonstration of the market introduction and the application of four New Bio-Based Materials (NBBM) corresponding with the Key Performance Indicator (KPI) 5:
NBBM 1 (wood-based) Functionally adapted lightweight board for furniture production (IKEA Industry Slovakia);
NBBM 2 (bark-based) Eco-fungicidal moulded fibre pulp (Pulpack sp., Poland) for the production of moulded fibre packaging for the computer industries
NBBM 3 (bark-based) Bark enriched Wood Plastic Composite (Energochemica, Slovakia)
NBBM 4 (bark-based) Wood-Plastic Granulate (Energochemica, Slovakia)
Implementation of dedicated monitoring and applied-level research to ensure plantation quality, production stability, optimum poplar variety selection and risk avoidance
Implementation of most recent research results for tailored feedstock and the improvement of bio-based materials in full market competitiveness with their fossil based counterparts
Demonstration of the future chances, especially against the background of climate change, and the attractiveness of the dendromass cropping system to the European bio-based industries, land owners, farmers, the rural population, students, regional and state authorities and to other stakeholders by different partner networks
Validation of the expected ecological
Dendromass4Europe (D4EU) will have the following impacts
D4EU will turn at least 2500 ha of current marginal or unused land into cultivated land with SRC.
A large number of farmers and rural land owners will directly benefit from the diversification and increase of revenues through their involvement in D4EU.
The safety, quality and purity of new bio-based materials will be in line with EU legislation and proven to meet end-market requirements to facilitate future market access and commercialisation.
Based on the above mentioned impact of D4EU plantations for the farmers' income, the creation of new primary agricultural jobs can reliably be predicted. Mainly, the field work will be done by local people. This will maintain and extend the existing job opportunities in the respective rural areas.
Documented evidence from biorefinery investors in building industrial assets near the new feedstock supply
The dendromass feedstock from D4EU's plantations will be harvested for 20 years in four five-year rotations. Clear proof for the suitability of the feedstock is given by the fact that three industrial partners have dedicated plans to valorise this biomass in separate value chains.
D4EU will contribute to other Key Performance Indicators (KPI) that are targeted by the Strategic Research and Innovation Agenda SIRA of the BBI JU (BIC 2013). KPI 1: The D4EU project harbours three industrial partners in an innovative bio-economy cluster. They will cooperate for the first time in order to implement innovative value chains based on dendromass supply and on the separate exploitation of the lightweight poplar wood and the poplar bark of Slovakian (Hungarian) origin (KPI 2)
Consortium map
Project coordination
TECHNISCHE UNIVERSITAET DRESDEN

Dresden, Germany
Consortium
OKOFORESTINO KORLATOLT FELELOSSEGUTARSASAG

Sopron, Hungary

KOMPETENZZENTRUM HOLZ GMBH

Linz, Austria

IKEA INDUSTRY SLOVAKIA SRO

Malacky, Slovakia

DAPHNE - INSTITUT APLIKOVANEJ EKOLOGIE

Bratislava, Slovakia

SVERIGES LANTBRUKSUNIVERSITET

Uppsala, Sweden

CONSIGLIO NAZIONALE DELLE RICERCHE

Roma, Italy

PULP-TEC SPOLKA Z ORGANICZONA ODPOWIEDZIALNOSCIA SPOLKA KOMANDYTOWA

Lodz, Poland

TERRAINECO SRO

CESKY TESIN, Czechia

PULP-TEC COMPOUND GMBH + CO KG

Neustadt (In Sachsen), Germany
Former member
ENERGOCHEMICA TRADING AS

BRATISLAVA, Slovakia