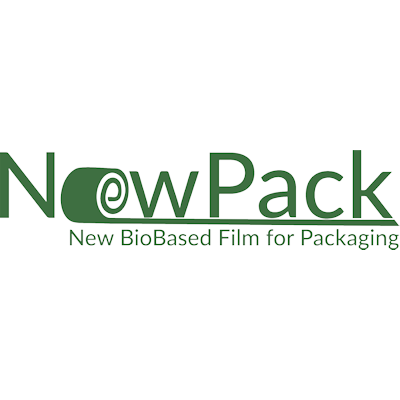 NEWPACK
Development of new Competitive and Sustainable Bio-Based Plastics
Project details
Type of project

Research & Innovation Action

Feedstock type

Crop residues

Fishery by-product
Project period

1 June 2018 - 31 August 2021

CBE JU Contribution

€ 4 197 929,94

Call identifier

H2020-BBI-JTI-2017
Summary
In 2015, the countries of the EU, along with Switzerland and Norway, used almost 50 million tonnes of plastic. Around 40 percent of this was in the packaging sector, with a great deal of that finding its way to the food industry.
The NEWPACK develop a competitive, sustainable and innovative technology for making two new biodegradable, bio-based polymer materials. These materials will use novel biodegradable plastic food packaging films from agro-food waste, including potato peelings and crab shells. The materials will have improved mechanical properties thereby reducing the environmental impact of food packaging. It will have antioxidant/antimicrobial features that extend the shelf life of foods while retaining their nutritional value and their texture; an improvement over existing bio-based plastics This project will validate, at pilot scale, the manufacture of these packaging material based on novel materials based on biomass streams.
The overarching objective of the NEWPACK project is to scale-up, validate, demonstrate and prepare the market for these innovative bio-based food packaging materials.
Within this, the specific objectives include:
Designing the pilot plant, taking into consideration the feedstock properties and final product requirements;
Validating the pilot scale production of PHB from the fermented potato peels, sweet corn residues;
Validating pilot scale blending of PLA with PHB to the final product requirements;
Validating at pilot scale the encapsulation of natural extracts and the production of CNW and chitin;
Validating the final mix of different natural additives and its incorporation in the of the final PLA-PHB film and its production;
Validating biodegradable films in real food packages by extrusion of the films;
Ensuring compliance with all relevant regulatory requirements;
Preparing for future scale-up to achieve a pre-industrial production;
Overcoming barriers for adoption in consumer applications like food packaging;
Focusing on the product technical properties towards the expected markets.
The NEWPACK project expects to deliver the following impacts:
Demonstrate that up-scaled polyhydroxybutyrate (PHB) production from agro-food waste costs up to 30 – 40 percent less to manufacture than current methods;
Demonstrate that novel blends of PHB/polylactide (PLA) mixtures, in a variety of ratios, can open up several new opportunities in both plastic and packaging industry;
Demonstrate an up-scaled process for incorporating cellulose and chitin nanowhiskers that make plastics and plastic materials with superior mechanical properties;
Demonstrate up-scaled incorporation of natural additives to PHB/PLA blends;
Demonstrate up-scaled process of applying coatings with antioxidant/antimicrobial activity;
Demonstrate up-scaled technology for producing film using PHB/PLA blends with antimicrobial/antioxidant properties.
Consortium map
Project coordination
OULUN YLIOPISTO

Oulu, Finland
Consortium
LULEA TEKNISKA UNIVERSITET

Lulea, Sweden

ASOCIACION PARA LA INVESTIGACION DESARROLLO E INNOVACION DEL SECTOR AGROALIMENTARIO - AIDISA

Aleson La Rioja, Spain

CONSORZIO PER LA PROMOZIONE DELLA CULTURA PLASTICA PROPLAST

Alessandria, Italy

FUNDACION TECNALIA RESEARCH & INNOVATION

DONOSTIA-SAN SEBASTIAN (GIPUZKOA), Spain

RIBEREBRO INTEGRAL SOCIEDAD ANONIMA

Alfaro La Rioja, Spain

BIO BASE EUROPE PILOT PLANT VZW

Desteldonk Gent, Belgium

TRITECC SRL

Cluj Napoca, Romania

QUANTIS

Ecublens Vd, Switzerland

ARGAL ALIMENTACION SA

Zaragoza, Spain

NUEVAS TECNOLOGIAS PARA EL DESARROLLO DE PACKAGING Y PRODUCTOS AGROALIMENTARIOS CON COMPONENTE PLASTICA SL

Zaragoza, Spain

UNIVERSITA CATTOLICA DEL SACRO CUORE

Milano, Italy
Former member
EXERGY LTD

Coventry, United Kingdom